Packing Your Motorcycle For Hari Raya (and Beyond)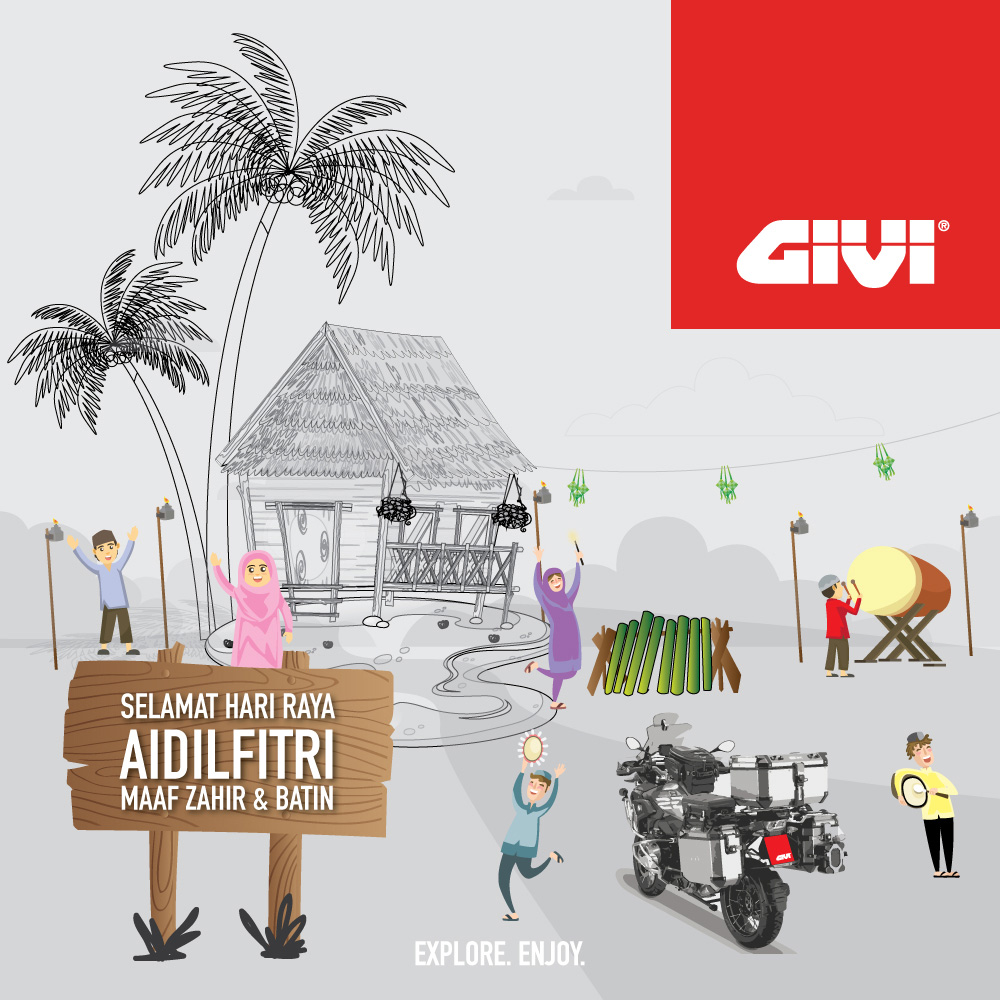 Balik kampung wo-oh-oh balik kampung
We do not have to guess that everyone is excited about Hari Raya. It is time for celebrations with the family and of course, lemang and rendang!
But first, we need to pack our motorcycles for the journey home. It may sound trivial but packing properly means a stress-free and most importantly a safe trip. Please click here for more tips on riding long distances.
As you are aware, GIVI offers every kind of conceivable motorcycle luggage solution but it is still up to you to pack wisely and safely. Please click on this link for some of our picks.
1. Choosing your luggage
GIVI offers both soft and hard luggage types. It is up to you to choose which type fits your needs and type of motorcycle.
Hard luggage is when you need lots of storage space, security and weather protection.
Soft luggage is lighter but allows you to access your belongings easier. However, do remember to keep soft luggage away from the exhaust system!
A backpack can be tied to the bike if you do not have a passenger. Best to choose a waterproof type from our catalogue.
2. Where to store what
A tank bag allows you to store your important items within reach and sight. This is where you ought to keep your wallet, phone, sunglasses, reading glasses, or even a bottle or two of water. You can roll up your rain suit and store in here too, if there is enough space.
Tools, chain lube, engine oil or other chemicals should be wrapped in newspaper or cloth, then stored in a plastic bag. You would not want your baju raya to have a large oils stain now, do you (we have experienced this firsthand)?
Heavy stuff such as those tools should be placed at the bottom of the luggage, while lighter items such as clothing on top. This will keep your bike from feeling top-heavy.
Rain suits can be placed in the top case – on top of everything else. This way, you do not have to remove everything else (and getting them wet) in order to reach the waterproof garment.
3. Balance your load
Do remember to balance left and right panniers or bags. There was story of a rider who complained about his bike pulling to one side after loading up his panniers. He later admitted that he was carrying all the durians on one side, and a pair of shoes on the other.
Do not to overload your top case, either, to avoid the bike's balance being shifted too much to the rear.
4. Load check
Check your luggage, regardless if they are hard, soft or backpack type. You can do this when you stop for fuel.
Again, it may seem like a superfluous tip, but there will be times when one forgets to lock a hard case.
If you are using soft luggage, check the zippers and tension of the straps.
If you tied your backpack to the motorcycle, it is extra crucial to check the straps. Also, make sure that the bag did not slip backwards and cover the taillight!
5. Do not get paranoid when packing
Sure, you may think of "what ifs," but do not get carried away.
You do not have to load up your entire set of spanners or four pairs of shoes for a three-day stay. Malaysians are lucky that there are many R&Rs along the major highways plus small towns along the way.
Not overpacking means you have some space to bungkus some lemang along the way.