Ten Essential GIVI Equipment For Your Next Tour

It is time to tour again now that the end of the year approaches. There will be many motorcycling events and activities in store for you and your riding buddies to see the year out, both locally and over the border.
But long-distance touring is not merely about hopping on your bike, filling it up and hitting the road. Instead, it requires some planning for a smoother, safer and ultimately a more enjoyable and memorable ride. As such, it is better to be well-prepared (or even over-prepared) than finding yourself stranded on a roadside in the middle of nowhere.
Here are Ten Essential GIVI Equipment for Your Next Tour. See you at the border!
TREKKER OUTBACK 58 LTR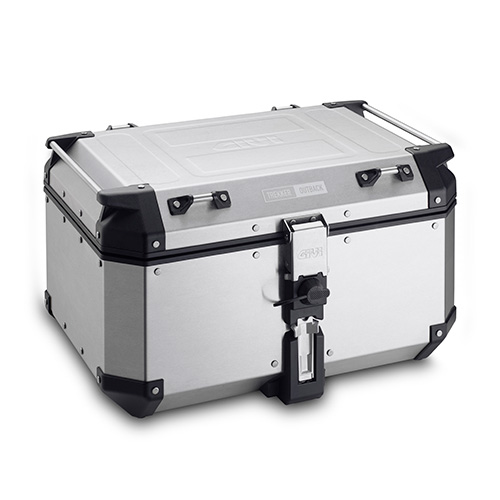 Hoarding all your clothing and personal effects in a backpack for long distances will strain your shoulders, back and neck, wearing you out even before your breakfast has the chance to digest. Such hardship necessitates too many stops along the way, inadvertently.
The best way is to install a GIVI top case and drop everything into it. GIVI offers an endless range of top cases to suit your storage needs and budget, so you will always find a correct one. Having a top case also means that your belongings are carried in a water-resistant casing besides being safely locked away.
TREKKER OUTBACK 48 LTR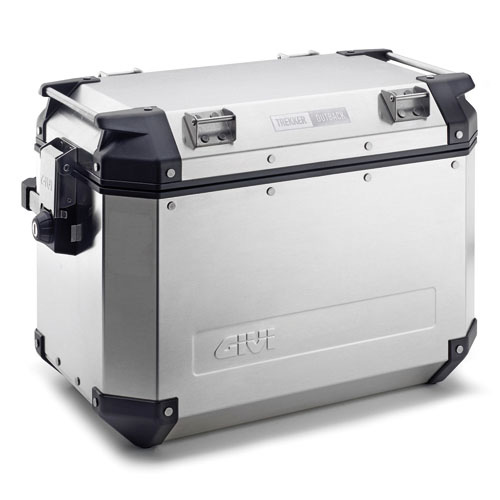 Having panniers will expand your bike's cargo hauling capacity even more, especially if you are touring with a passenger who insists of packing everything but the kitchen sink. GIVI offers hard and soft side cases of varying capacities and styles that are weather-resistant or are supplied with dust/rain covers.
Furthermore, the racks for both the top and side cases can serve as points to tie bungee cords should the need arise.
UT810 LOCKABLE TANKBAG 23 LTR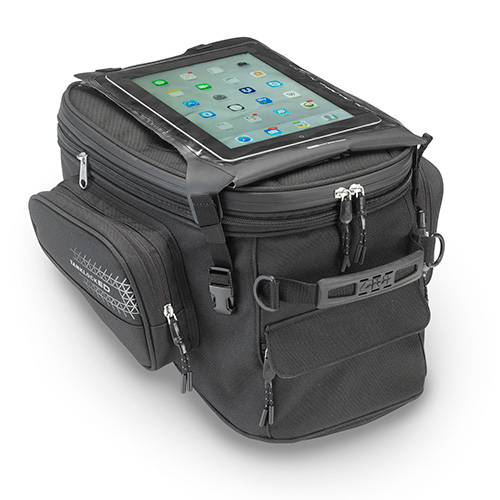 So why does one need a tank bag if there are already a top case and side cases? The answer is storage space for items such as a camera, documents or rain gear. Surely you want to have your rain gear within easy reach. Or your passport when you reach the Malaysian-Thai border: Imagine the hassle of having to get off the bike and rummaging through your bag to look for it.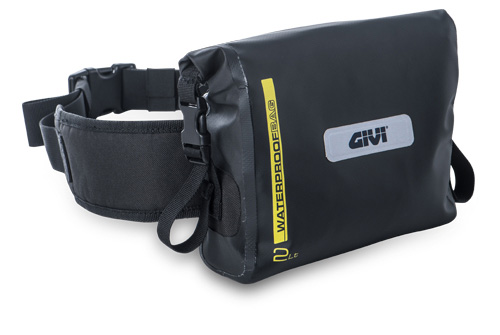 A waist bag or pouch lets you store sensitive personal items such as your wallet, phone, keys, earplugs, money, nicotine-laced refreshment, etc. close to you at all times. GIVI has a wide selection of waterproof waist bags of all sizes.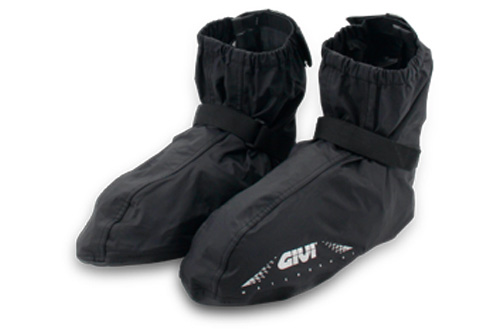 One cannot downplay the importance of the rain gear when touring, because no one likes to ride all wet and miserable to the destination. If the hotel staff at your destination hold in their breaths or pinch their noses until they turn blue, then you know how bad wet clothing smells.
GIVI rain gear are fully waterproof, strong and long-lasting. Do purchase the genuine item.
S450 TUBELESS KIT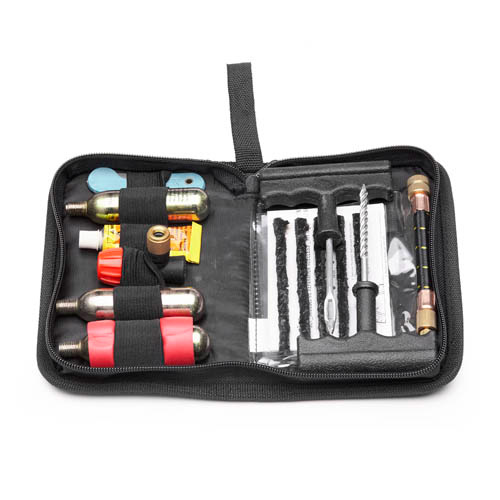 Many motorcyclists ride long-distances without carrying tyre repair kits and pay the price, literally. Calling on an emergency tyre repair service is expensive, if it is available at all. Or worse, getting stuck in the middle of a jungle if you are the sort who likes to explore off the beaten path.
GIVI's tyre repair kit includes CO2 gas canisters to re-inflate the tyre without the need to lug along a tyre inflation pump, thereby saving space and weight.
S301 FIRST AID KIT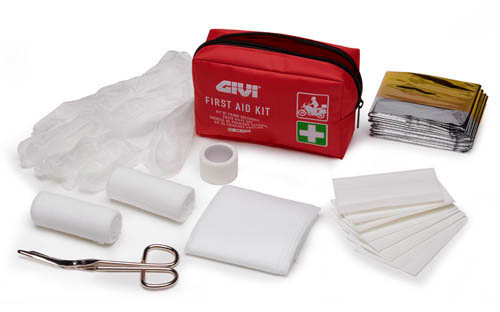 Never ride without a first aid kit. Even a seemingly harmless wound could get worse after hours of riding. Having a first aid kit also means you could help your buddies.
S920 UNIVERSAL SMARTPHONE HOLDER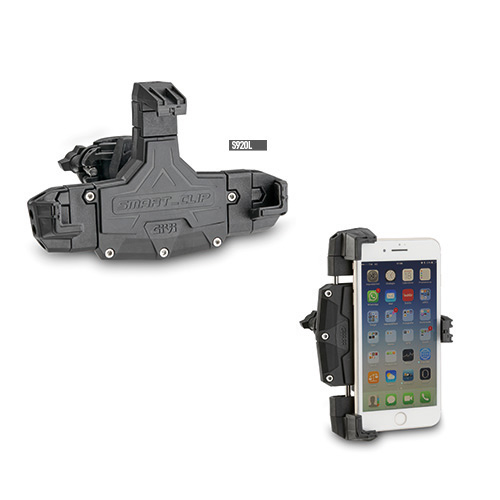 A sturdy smartphone/GPS holder saves you the angst of struggling with a sub-standard one. Believe us, we have been there. That is why GIVI develops phone/GPS holders that are waterproof, dust-proof, easy to see under all lighting conditions and touch sensitive.
S250 UNIVERSAL FIXING KIT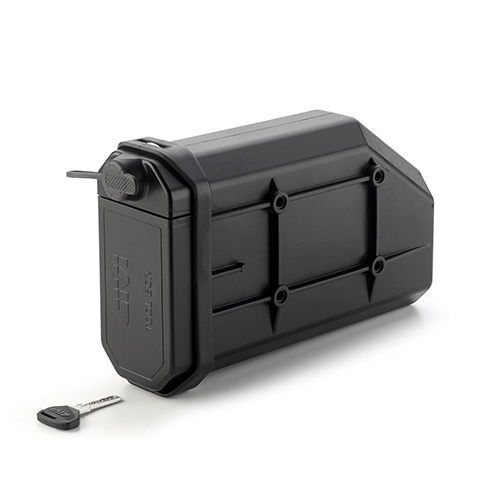 Tools are never thought of until something happens, because when that something happens, one could easily find himself without tools. The reason is because there are motorcycle manufacturers who do not supply enough tools in the toolkit, or of suspect quality if they did. The onus is therefore on the motorcycle owner to obtain the necessary hardware. But where to store them then? The best solution is to install a GIVI toolbox. It is large enough for multiple items, out of sight and lockable.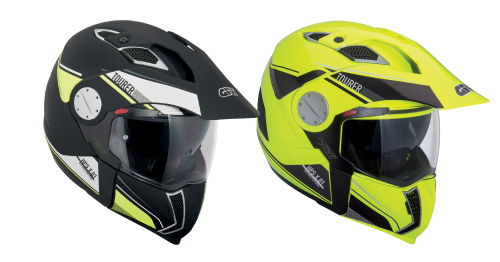 GIVI offers an extensive range of helmets of every type for every type of rider. All GIVI helmets are extensively researched and developed before being produced using high quality materials for both the exterior and interior. All our helmets conform to the stringent ECE 22.05 standard.
These ten items are a mere drop in the sea of GIVI's entire range of products. Although you may not need them all, admittedly, it is best that you do however as GIVI's products are made specifically to ease every rider's daily ride and tour. There are among us who have tested our products in the harshest conditions and they came out tops.