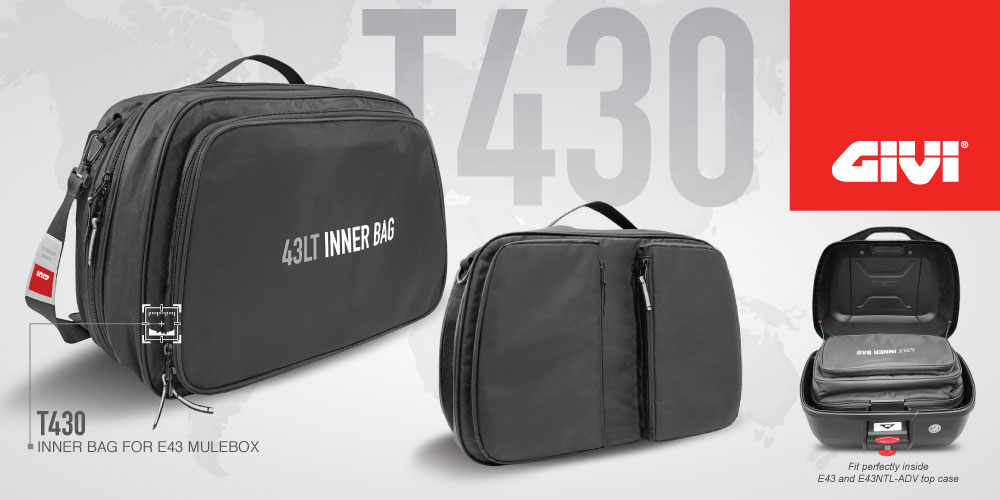 The GIVI T430 Inner Soft Bag is compatible with the GIVI E43 "Mulebox."

It allows the user to organise his belongings better.

The user can carry the T430 out of the case and leave the case on the bike.
Having a hard top case is one of the most practical solutions for any motorcyclist, but GIVI goes a step better to allow GIVI E43 Mulebox hard case users a better way to organise your items. The solution is through by using the GIVI T430 inner soft bag.
FEATURES:
Fits the GIVI E43 Mulebox hard case perfectly.
42-litre carrying capacity.
Inner separators.
Shell made of long lasting and strong proprietary material.
Built-in ergonomic carry handle.
Shoulder strap included for carrying off the motorcycle.
USAGE EXPERIENCE:
Using a top case is already a great step in not only increasing the motorcycle's carrying capacity, but it also provides a convenient means of carrying the rider's items.
However, organizing items in the top case, especially a larger-sized top case can be a bit haphazard at times. We usually insert items into a bag which is oddly sized for the top case. As a result, the bag may be too small or too large for the case. Besides that, certain items may be carried in the bag while others are outside.
You can now lay your worries to rest as this GIVI T430 inner soft bag provides a means to carry all your items in one bag so that you do not have loose items in the top case.
The T430 bag has a 42-liter carrying capacity, allowing you to carry pretty everything a motorcyclist needs during a trip. Additionally, it has inner separators to allow for carrying different items in different parts of the bag.
It is easy to insert and extract from the top case for carrying due to the ergonomic handle and shoulder strap.
Please visit your nearest GIVI Point, GIVI Specialised or authorized GIVI dealer to view the products. You may click on this link to find their locations. Conversely, you may also visit our official Facebook page or click on this link in our website for more information for the latest news, happenings and other products.
IT PAYS TO BUY GENUINE GIVI PRODUCTS