GIVI MECHANICAL PARTS PROTECTION FOR MOTORCYCLE
02 May 2022
crash bars, crash protector, engine guard, frame protector, givi, GIVI Asia, GIVI crash bars, GIVI crash protector, GIVI Engine Guard, GIVI frame protector, GIVI Malaysia, GIVI Mechanical Parts Protection, GIVI Mechanical Parts Protector, GIVI Oil Carter Protector, GIVI Radiator Guard, GIVI sump cover, GIVI sump protector, News, radiator guard, sump cover, sump protector
These are parts your bike will thank you for.

It is always prudent to protect your bike's mechanical parts.

GIVI produces accessories for all bike sizes.
Adventure riding and adventure touring are some of the most rewarding and enjoyable aspect of the motorcycle lifestyle. However, it is safer to install these GIVI Mechanical Parts Protection to be safe and have a peace of mind.
It is foolhardy to jump headlong into a trail without equipping your motorcycle with some necessary equipment. As fun as it is, riding in the rough has its own set of risks. A rock could snag a part of the bike, or a mild tip-over may cause more than just cosmetic damage.
GIVI Oil Carter Protector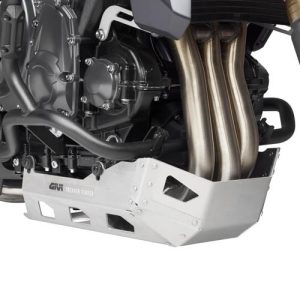 "Oil carter" is a direct translation from Italian which means oil pan or oil sump. Semantics aside, a wayward rock or tree root could easily break or puncture the oil sump resulting in immediate engine oil evacuation. Thus, an oil sump protector is a necessity. In fact, such a part is also very practical for road riding because there is always the chance of running over a hazard such an unseen speed bump.  Additionally, GIVI Oil Carter Protector also shields a portion of the exhaust down-tubes.
You do not have to worry about weight or corrosion because is made from tough aluminium alloy.
The GIVI Oil Carter Protector is available for virtually all popular adventure motorcycles.
GIVI Radiator Guard
A radiator guard is a must regardless it is a liquid cooler or oil cooler, and whether one is riding off-road or on paved roads. Any flying object thrown into the motorcycle's way or picked up the motorcycle's own front tyre can puncture the radiator.
GIVI's radiator guards are made of tough stainless steel mesh panel and can be fitted without modifying the motorcycle as there is an assembly kit designed specifically for each motorcycle.
GIVI Engine Guard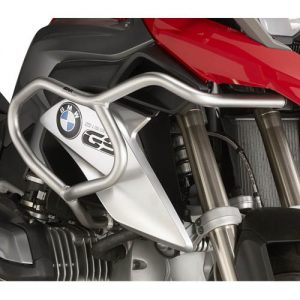 Also known as "crash bars," this part protects the sides of the engine, and parts of the motorcycle frame in the case of a crash or tip-over. These are truly tough and have been tested thoroughly during the Let's Get Dirty with GIVI adventure ride, as well as the GIVI Wilderness Adventure in South Africa. Depending on type and motorcycle, it has the added benefit of saving the motorcycle's body part, too.
GIVI also offers cylinder head protectors for the BMW R 12XX GS series of motorcycles, too. There are frame sliders for other motorcycles besides these.
Conclusion
There are many more GIVI Mechanical Parts Protection products for your motorcycle to list here. Each is thoroughly tested before being made available to the public.
So please visit your nearest GIVI Point, GIVI Specialised or authorized GIVI dealer to view the products. You may click on this link to find their locations. Conversely, you may also visit our official Facebook page or click on this link in our website for more information for the latest news, happenings and other products.
IT PAYS TO BUY GENUINE GIVI PRODUCTS