GIVI CIT01 BACKPACK
28 Feb 2022
CIT01 Backpack, givi, GIVI Asia, GIVI Asia Sdn Bhd, GIVI backpack, GIVI CIT01, GIVI CIT01 Backpack, GIVI Malaysia, motorcycle backpack, News,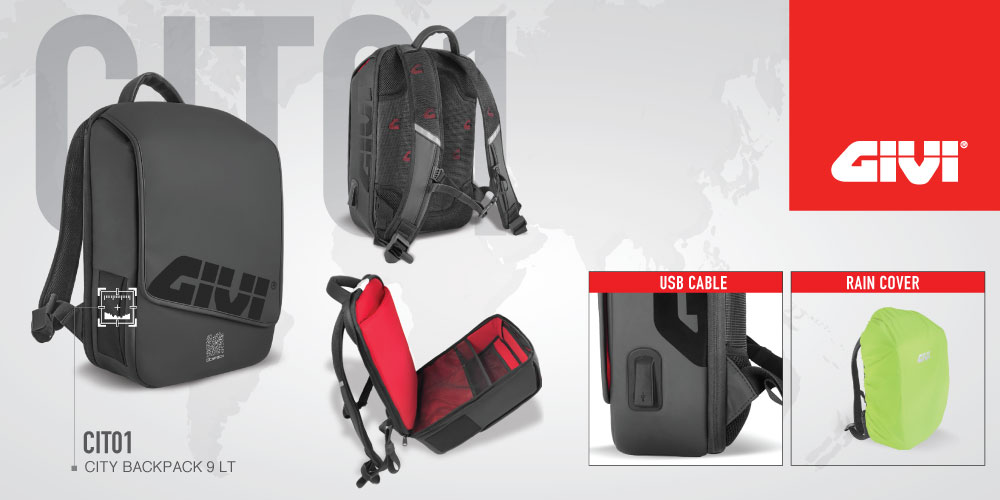 The GIVI CIT01 Backpack is designed for on and off bike applications.

It looks both stylish when the rider is riding and not riding.

It has a useful capacity for carrying the rider's items.
The GIVI CIT01 Backpack is  designed for riders who want a functional and stylish backpack while riding and also while off the bike.
Backpacks come in all shapes and sizes. Some are intended for everyday use by the non-bikers, while there are those intended for bikers, but one may feel out of place while shopping in the mall. So, it is about time someone creates a backpack for motorcyclists that is also stylish in urban, non-motorcycling environments, while also being practical for the motorcyclist and everyday person.
FEATURES:
9-litre capacity.
Large opening for main compartment enclosed by large flap with magnet.
Zipper to open rear of backpack to access laptop.
Thickly padded and adjustable straps.
Adjustable height chest belt with quick-release buckle.
Mesh back for great ventilation and proper posture.
Internal laptop pocket.
Pockets for smaller items.
Large reflective stripings for added visibility.
Internal paddings with luxurious red velvet cloth.
External USB connector.
Rain cover provided.
USAGE EXPERIENCE:
The GIVI CIT01 Backpack is meant for riders who ply the urban environment. Hence it is rather compact while offering plenty of pockets and storage space for a great number of items.
The internal paddings are red with velvet-like surface to provide a smooth surface for your belongings, especially the laptop. The laptop is securely held in a pocket at the back of the backpack, so that it does not move around.
One great addition is the USB connector, to which you can connect to a powerbank inside the bag, and connect a device on the outside. Such arrangement eliminates the need to hold the powerbank together with the phone or have the powerbank inside your pocket.
The supplied rain cover is located in a semi-hidden external pouch, which makes it easy for the user to pull it and cover the backpack quickly. It is in fluorescent yellow for high visibility while riding in the rain.
Please visit your nearest GIVI Point, GIVI Specialised or authorized GIVI dealer to view the products. You may click on this link to find their locations. Conversely, you may also visit our official Facebook page or click on this link in our website for more information for the latest news, happenings and other products.
IT PAYS TO BUY GENUINE GIVI PRODUCTS