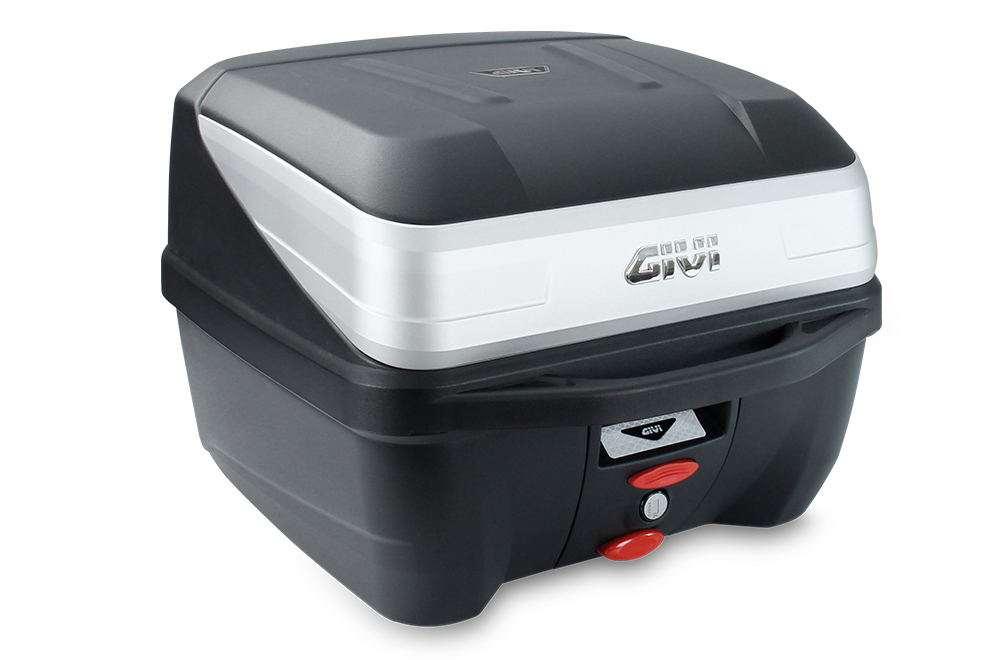 Carry more in a small package
Besides the E43NTL Mulebox top box, the B32N Bold has become another favourite among Malaysian motorcyclists in the short time since it was launched. Its design is based on the boxy lines of the E43NTL, allowing it to not only store lots of items, but it also means that the top box looks good on any type of motorcycle.
Features:
Tough and long-lasting PP material.
32-litre storage capacity.
Fits one full-face helmet.
Waterproof against rain.
Boxy shape allowing for ease of carrying items.
Carries up to 3kg with the MV mount, 5kg with the HRV mount.
Monolock® security system – only one "click" to lock.
Usage Experience:
GIVI has received many positive feedbacks regarding the B32N Bold. Much of the compliments are with regards to its size and carrying capacity and capability.
Both the lid and bottom portion of the box are deep enough to fit many items. Being boxy means you can insert items easier as there are no odd angles. There is more than enough space for a GIVI rainsuit and small backpack.
The Monolock® locking system makes life a whole lot easier when closing the box – you only have to pull the lid down until it clicks. Opening is by way of unlocking with the key, pressing the large button and lifting the lid.
The box is also lightweight, despite being made of super-tough and long-lasting PP (polypropylene), making it easy for you to detach and carry off the motorcycle.
The B32N Bold is the best choice if you want a simple and compact hard luggage.
The GIVI B32N Bold is priced at RM 235.00 (inclusive of SST). The mounting is sold separately.
Please visit your nearest GIVI Point, GIVI Specialised or authorized GIVI dealer to view the products. You may click on this link to find their locations. Conversely, you may also visit our official Facebook page or click on this link in our website for more information for the latest news, happenings and other products.
IT PAYS TO BUY GENUINE