Evolution of GIVI Products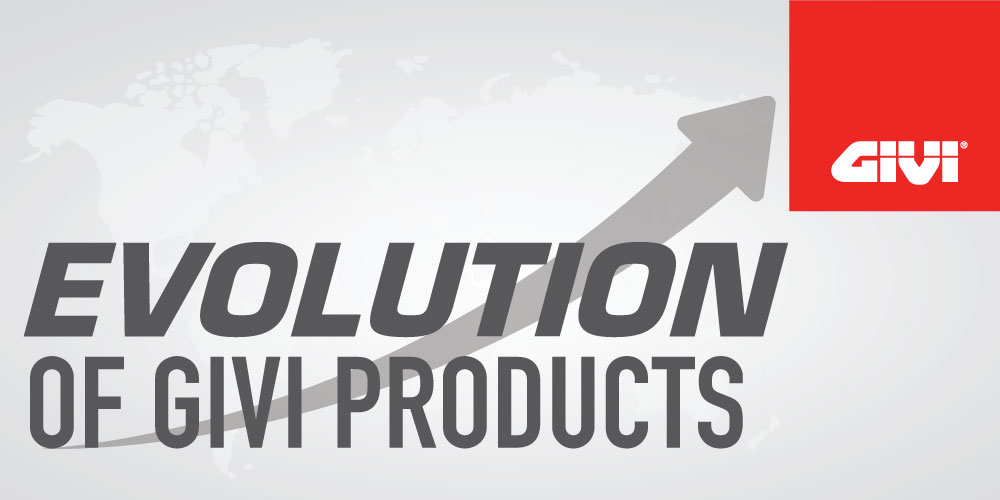 All the best since 1978
GIVI is now a worldwide household name when it comes to motorcycle accessories. But it all began with the vision of the founder Giuseppe Visenzi in 1978.
Visenzi was a world motorcycle grand prix racer from 1962 to 1970. Starting from the 125cc category, he moved up to the 350cc class where we came away with third place overall in 1969 behind one Giacomo Agostini and another Italian, Silvio Grassetti.
After retiring from active racing, Visenzi had found that there were so few accessories for riders. There were plenty of stuff for performance, of course, but there was almost none for comfort and safety.
This was what drove him to start his own organization, which he christened "Givi" as a combination of his first and last names – GIuseppe VIsenzi.
There were already many accessory makers at the time but GIVI outlived most of them through uncompromising quality standards, reliability, and unmistakable Italian design.
Here, we trace the evolution of some of the greatest GIVI products since 1978.
1978 – GIVI Engine Guards
These exquisitely designed and manufactured engine guards protected motorcycle parts. Seen from the front on the left side, the product formed the letter "G."
1979 – Cockpit
Motorcycles up to then did not have fairings fitted as standard items. So, GIVI was among the first to create the aftermarket fairing for 250cc and 1000cc bikes.
1980 – Universal luggage rack
GIVI's luggage rack made its first appearance in 1980. It allowed riders to tie their bags and luggage to the rack for comfort, rather than sacrificing the passenger's seat.
1980 – Universal tank bags
The company's first tank bag appeared in this year. Since riders could now attach their luggage on a rear rack, the top of the tank was a great place to carry a bag.
1983 – E34 Monokey top case and Monokey lock
This was a watershed year as the first GIVI top case made its debut. The case featured 34 litres of storage space. Opening and removing the case was made easy with the Monokey system, which required only one key.
1985 – MONORACK system
The MONORACK system was introduced. It meant that a single rack (base) could fit a wide range of GIVI cases, rather than having one type of rack for each case.
1990 – E10 and E20 Monolock top cases
The Monolock system came about with the release of these two cases. The E20 went on to be the biggest seller so much so that it was called the "kotak sejuta jagat" (case for a million souls) in Indonesia.
1995 – E460 Monokey top case
The E460 top case was the first foray into top cases with large capacities above 40 litres.
1999 – E21 Monokey side case
The first GIVI side case was shown to the world this year. The E21 was so successful that it was sold until very recently.
1999 – Soft saddlebags
GIVI also introduced soft saddlebags that year. They were made of hardy material instead of leather and came with rain covers.
1999 – Rucksacks
The turn of the millennium also saw the debut of GIVI rucksacks. They have since been refined through the years and decades to where they are now.
2002 – 10.1 JET helmet
The 10.1 JET was GIVI's first helmet. Built to the latest standards, it was represented the company's stand on rider safety.
2003 – V46 Monokey top case
The V46 top case became one of GIVI's most recognized and recognizable product. It combined the beauty of an Italian designed product along with large capacity and reliability.
2005 – H9000 full-face helmet
GIVI's full-faced helmet came about this year.
2006 – V35 Monokey side case
The V35 may have come out in 2006 but it was popular among big bikers until the V37 made its debut in 2019. It was the choice of Kawasaki Versys 650 and ER-6 owners everywhere.
2008 – X.01 modular helmet
The X.01 modular helmet was not a "flip-up" but the chinbar was detachable, turning the helmet into a jet-type open-face helmet. It evolved into the highly popular and award-winning X.01 Tour adventure helmet.
2009 – MAXIA 3 E55 Monokey top case
The MAXIA 3 E55 was the biggest top case ever sold by GIVI. Its design made the box look smaller than it was, and the reflectors gave a luxurious, carlike design.
2009 – AIRFLOW windscreen
One of the first products GIVI marketed was the fairing, so the AIRFLOW windscreen completes the circle. GIVI offers windscreens for a wide selection of motorcycles, using the best material available.
2010 – TREKKER Monokey cases
This was the year the TREKKER range of cases made their debut. Produced with long-distance touring riders in mind, these cases are known for their toughness in the most demanding conditions.
2010 – TANKLOCK system
The TANKLOCK tank bag mounting system makes attaching a tankbag even more secure and convenient than ever before. The TANKLOCK ring allows easy attachment and detachment, plus secure attachment of the tankbag.
2013 – TREKKER OUTBACK cases
GIVI ventured into the aluminium case with the TREKKER OUTBACK after years of research and development. The TREKKER OUTBACK is now the favourite among many adventure riders due to its toughness and wide range.
2016 – 40.5 X-Carbon full-face helmet
The first GIVI carbon-fibre helmet. Beautifully designed, it had all that a rider wanted from a full-face helmet and more.
The Future
GIVI's line-up is so extensive that it is impossible for us to list everything here. But you can be assured that we will adhere to our principles of quality and reliability to benefit you as a rider.
Rest assured that this new decade will be very interesting, indeed.
Please visit your nearest GIVI Point, GIVI Specialised or authorized GIVI dealer to view the products. You may click on this link to find their locations. Conversely, you may also visit our official Facebook page or click on this link in our website for more information for the latest news, happenings and other products.
IT PAYS TO BUY GENUINE