5 BASIC CHECKS ON MOTORCYCLE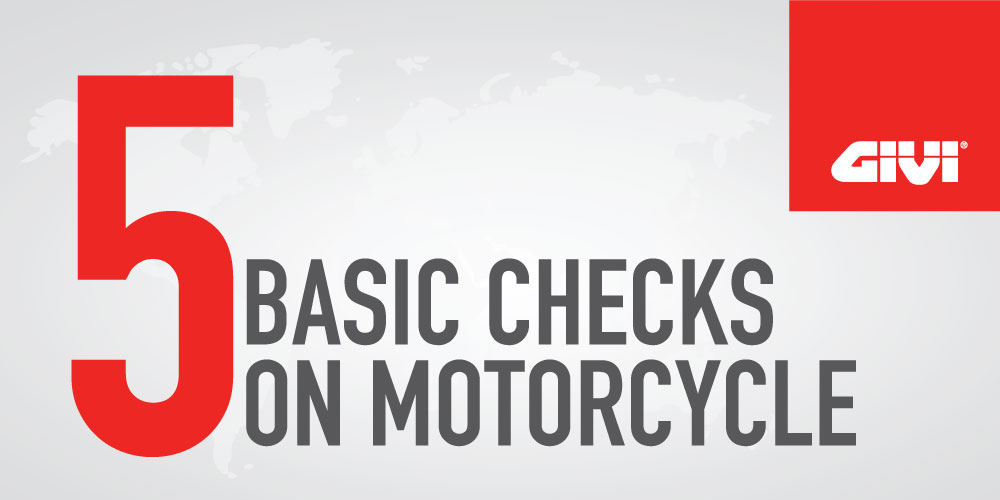 One mistake every biker makes is not checking his bike before riding.
Checking the bike allows you to spot potential problems early on, before they turn into life-threatening situations when you are riding.
You do not have to be mechanically-minded to be able to carry out some basic checks. You do not even have to take apart anything.
1. Tyres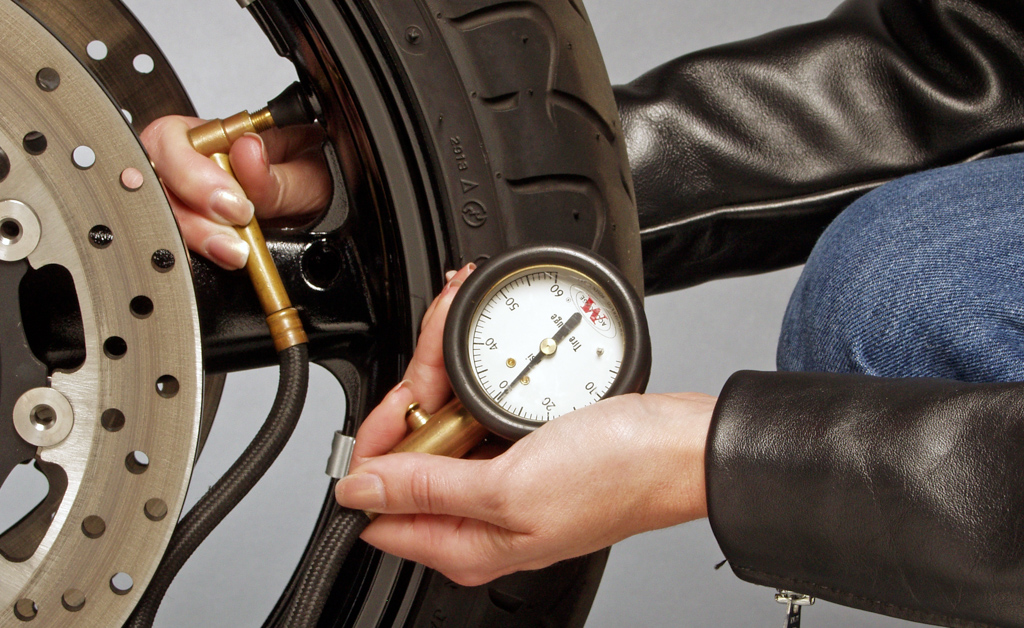 Tyres are the first thing any of us should inspect.
But get yourself a good tyre pressure gauge, as those at petrol stations are not calibrated after they are installed, hence they are inaccurate. Check the tyre pressure after you have filled them up with your tyre gauge. This way, you have a benchmark pressure even if your gauge is also inaccurate. And do check the pressure when the tyres are cold.
Also, check for obvious signs of damage such as cracks or a nail or screw. Do make sure that the treads have not reached the tyre wear indicators.
Besides that, keep an eye out for abnormal wear.
2. Fluids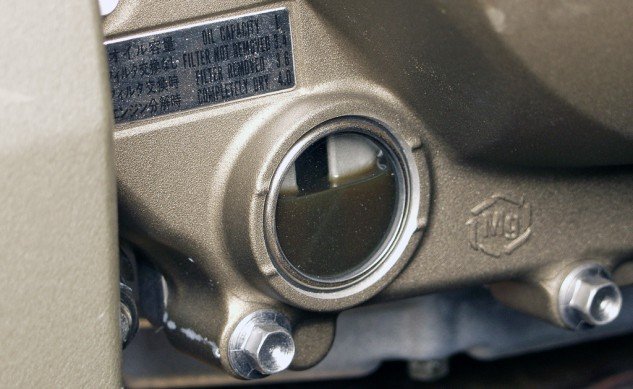 Modern (four-stroke) motorcycle engines do not consume as much engine oil as their predecessors. Still, it is always best to check the oil level. Do not wait until the oil pressure warning light shows up!
Hold the bike upright when you check the oil level. As such, do not let it lean on its side stand, or on a slope. You will only get accurate oil level readings when both wheels are level and on the centre portion.
Look at the colour of the oil, too. The oil is still good if it is amber or dark brown. Blackish brown is also fine, but not when it is fully black, or worse, greyish black.
Other fluids that you need to inspect are the brake fluid and coolant (if your bike is liquid-cooled). Change out the brake fluid every two years, regardless of how good it still looks.
Always check the level the coolant. Top it up to between the LOW and MAX lines if it is low. Additionally, pay attention to the colour. It is good if it still retains some of the original colour. However, if it turns milkfish white or milk-tea like, you need to have your engine block checked out immediately as there is oil leaking into the water galleries and vice versa.
3. Chain
The chain is often neglected even forsaken. A badly maintained chain will have a shorter lifespan, saps engine power and increases fuel consumption. Additionally, a chain with too much slack can come into contact with other parts of the bike, especially the swingarm. It may even snap.
Motorcycle manufacturers usually specific 1-inch (2.5cm) of slack at the bottom run's midway point. That allows for suspension movement and reaction to the engine's torque. So, adjust accordingly or have a mechanic do it for you.
Besides the tension, do check for kinks which are signs of a bad chain. Clean and lubricate the chain if you see rust. Also, lubricate it every 300 to 400 km.
4. Lights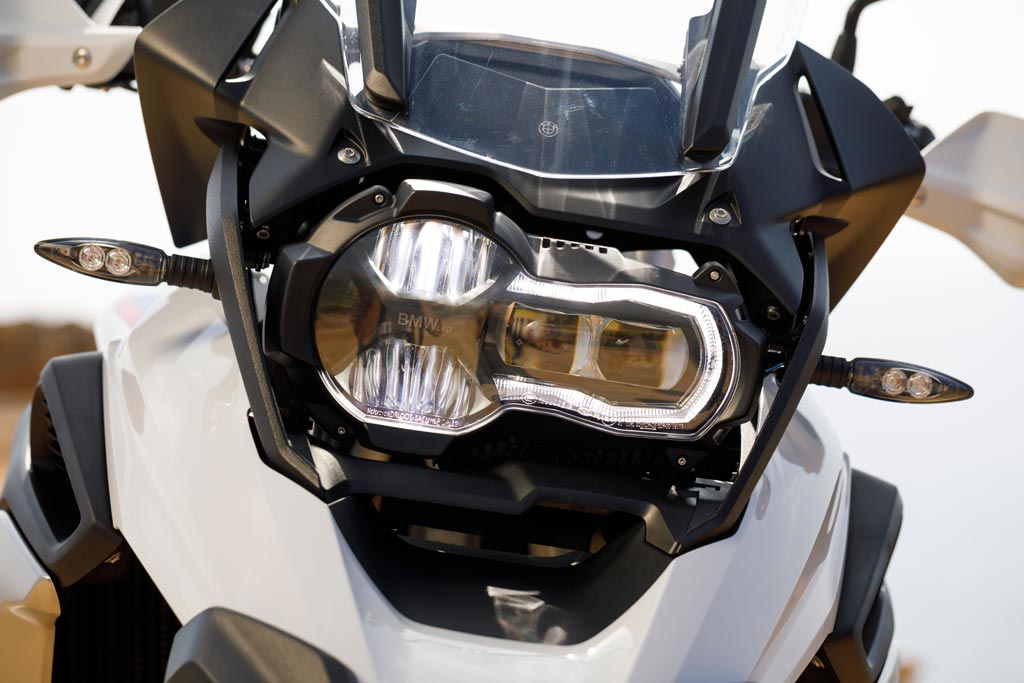 Do not ever take the lights for granted even if you ride only during the day. Lights provide a higher measure of visibility to other road users.
And it does not take long to check the lights on your motorcycle. Flip the beam switch to check the high beam. Check the daytime running lights if your bike is equipped with them. Ascertain that the signals are working. Especially important, that the brake light is working, too.
Oh, do not forget to check sure the horn, also.
5. Brakes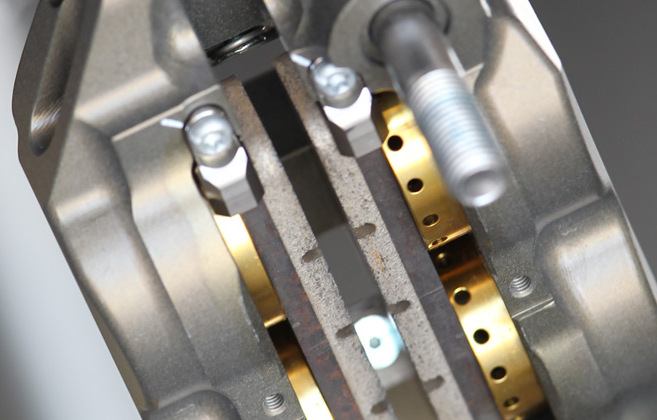 It is funny how we want the best brakes, but we forget about them until they start to squeal or feel spongy.
It is easy to check the thickness of the pads so there is no excuse that you did not do so. Check the discs for deep grooves, high ridges and discoloration. Deep grooves and high ridges means you have to replace the disc. You can clean the discs with a commercially available brake cleaner if they squeak.