GIVI V46NT/V46N MONOKEY TOP CASE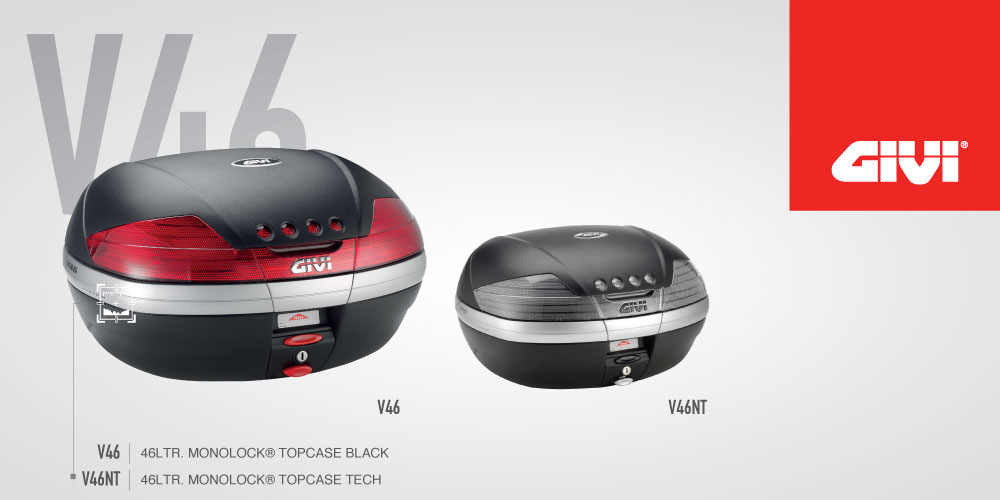 Spacious top case for touring
The V46 Monokey top case has been around for some time, but it is still available due to its popularity.
It is popular due to its size and reliability and is sought out by many riders who want a large storage space plus good looks.
 Features:
Tough and strong Technopolymer shell for longevity and safety.
46 litre capacity.
10 kg maximum load.
Optional brake light installation.
Optional passenger back rest installation.
Choose from V46NT with smoke reflectors or V46N with embossed red reflectors.
Usage experience:
The V46N and V46NT are for riders who seek more storage space for their long distance rides.
Being at such capacity, the top case can accommodate two full-face helmets. It also means that there is plenty of space for the pillion's luggage.
The case is aerodynamically shaped, thus resulting in minimal wind turbulence. Many customers have remarked that it looks like a UFO, in honour to its distinctive shape.
The large reflector panels at the back provide unprecedented visibility at night, keeping the rider safe.
As with all GIVI cases, there are many spare parts available, hence the owner can maintain the case for a long time to come. That is our commitment to provide value for money.
Please visit your nearest GIVI Point, GIVI Specialised or authorized GIVI dealer to view the products. You may click on this link to find their locations. Conversely, you may also visit our official Facebook page or click on this link in our website for more information for the latest news, happenings and other products.
IT PAYS TO BUY GENUINE GIVI PRODUCTS