TEN TIPS FOR AN ADVENTURE RIDE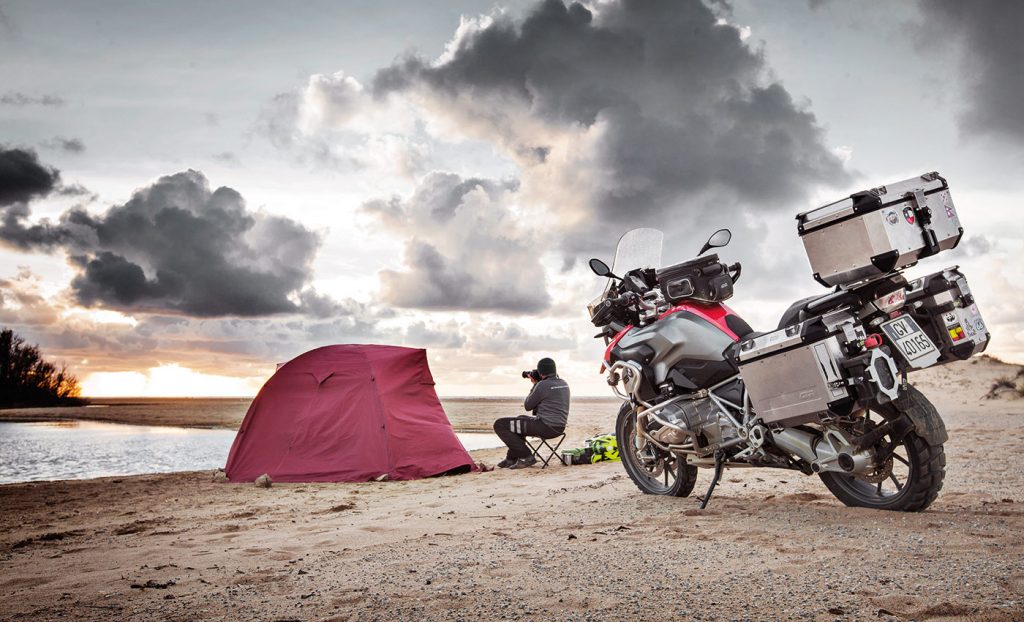 If you feel that long-distance paved road touring may be too mainstream, you ought to take up adventure riding. Adventure riding or touring is a whole lot more interesting and rewarding as there is just so much to discover when you explore places off the beaten paths. However, a smooth ride is all about preparation. The better prepared you are to overcome the challenges, the more fun you are going to have.
Set a date and lock it down
Don't be vague about when you're starting your journey. If you were to say, "I should be leaving sometime next month," you ought to just reschedule.
Setting yourself a dateline serves as a goal to carry out your research, lay out your plans, prepare your bike and equipment, besides setting up mentally. Chasing the dateline at the last moment will have you on your way guessing about what you missed.
Courtesy of www.mpf.mp.br
Set realistic goals
There's no perfect distance for motorcycle adventures. However, a realistic goal is important. Setting a distance too long may tire you out and being potentially dangerous. On the other hand, setting a distance too short may cause you to feel unrewarded.
With the distance in mind, it then depends on you whether you want to blast through all the familiar stuff or ride at a slower pace to discover new stuff in the unfamiliar surroundings.
Remember that you are not competing in the Dakar Rally.
Courtesy of redtrailtours.com
Plan your route
If you are riding solo and not mechanically savvy, it is best to cover a route with more civilization, or conversely ride with a buddy or two who are good at fixing stuff. Otherwise you may find yourself stuck in the middle of nowhere with a broken bike, surrounded by the jungle and without phone signal.
Always plan for fuel and refreshment stops. Additionally, do also have contingencies for emergencies. Make sure you map up out police stations and hospitals.
Planning your route would enable you to prepare your bike more thoroughly, such as what you'd need to carry or otherwise.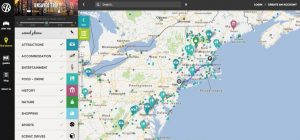 Courtesy of coolmomtech.com
Learn Basic Maintenance/Repairs
It is best to learn some basics such as performing troubleshooting, and simple repairs such fixing a puncture, bent or dropped off levers, spark plug removable, oil change/top up, so forth. Being able to do so will bring you comfortably off the beaten path to discover the best nature has to offer.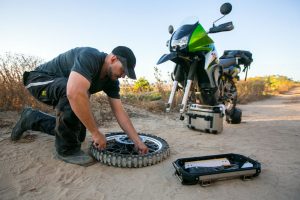 Courtesy of www.advpulse.com
Learn dirt riding
Being able to ride in the dirt prepares you physically and mentally to tackle the loose stuff, thereby providing you the confidence to travel anywhere. Consequently, you are more likely to explore. Exploring is way more exciting than riding on those paved highways that are no different from your daily commute.
Oh yes, remember to practice how to pick your bike back up in the dirt.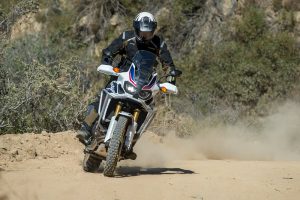 Courtesy of www.cyclenews.com
Travel light
You do not have to cram everything in, despite having large panniers, voluminous top case, and tank bag. The extra weight will cause you many more problems than what you'd think will "come in handy some time."
That means leaving your kitchen sink behind.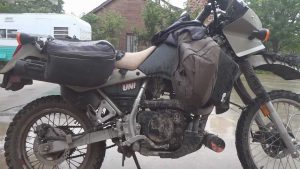 Courtesy of eveRide ADV Channel
Fit new consumables
Remember that it's an adventure you're heading out to, not a ride Lemang To'ki. As such, fit new, high quality brake pads, tyres, cables, wheel bearings, chain, sprockets, oil and oil filter. if your adventure bike uses wire spoked wheels and tyres with inner tubes, do fit new, heavy duty ones.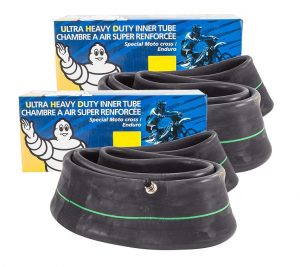 Courtesy of ebay.com
Do not dwell on the unexpected
You may get held up and reach the border to find it closed. Or torrential rain and wind that threaten to blow you off the road. Or the wooden bridge had washed away. Or a petrol station has no petrol.  Or all hotels are full. Just chill out and share the experience, as social media relishes the difficulties of others. You will get more likes that way. Seriously.
Sometimes, it is just a silver lining when things do not work out. Just relax the best you can.
Courtesy of www.hoian-motorbiketours.com
Learn some local languages
Or have a mini dictionary ready. Knowing a few local greetings and customs will help break the ice and get you out of most difficulties, especially when dealing with officials and people seemingly hostile to your presence.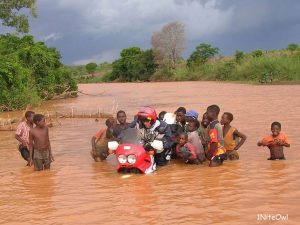 Courtesy of pinterest.com
Read up
This should fall under planning, but it is best to highlight on its own.
Grab a Lonely Planet book and bring it along or a good book about dual-sport and adventure riding such as Carl Adams' The Essential Guide to Dual Sport Motorcycling. The author covered everything from buying and riding the correct bike and gear, to riding techniques.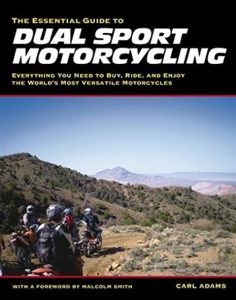 Courtesy of www.goodreads.com