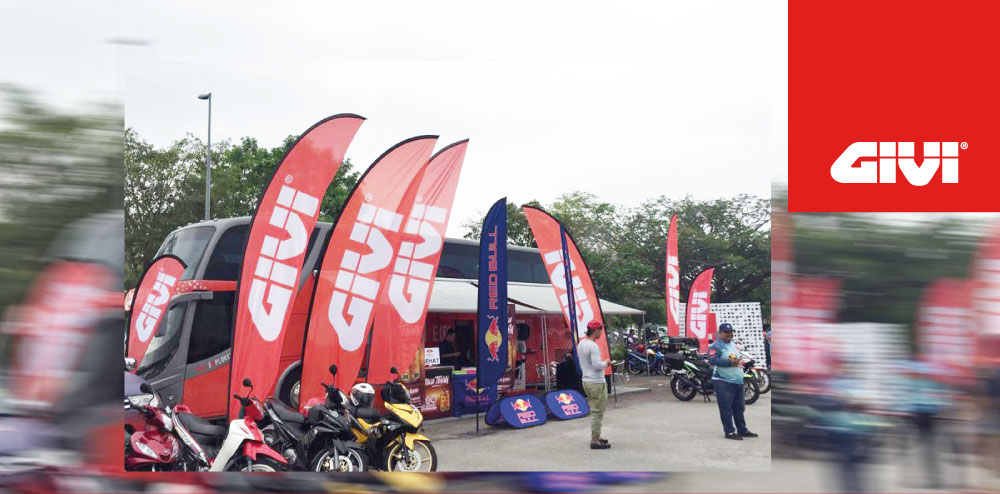 20 APRIL 2019
GIVI's Icon – The Red Explorer, was on the move again! This time in Muar, Johor for one of the most anticipated events for two wheels entitled 'Serlahkan Kehebatan 11.0' or simply known as only 'SK'. The crowd turn out for this gathering mainly consisted of lower cc motorcyclists. However, this event manged to reel in a record-breaking turnover – estimated over 50,000 people!!
Our presence in SK11, was to give full support towards the event and support the local motor community, GIVI Asia acted as event sponsor whilst providing a form of awareness on GIVI products such as rain suits, helmets and top cases and promoting the safety information on most of the products offered in our catalogue to educate the user on the importance of using the right range of
products that fit their riding needs.
Along with it, our existing co-partner, Red Bull Malaysia, added a special zest to the on-going event, as they had provided their energetic refreshments to the participants of this mega gathering via free sampling. Thank you Red Bull for the huge support throughout the year. They will be making another appearance with us at Northern Bike Week 2019 in Penang from 27th – 28th April. Please do not miss it!
See you guys there!