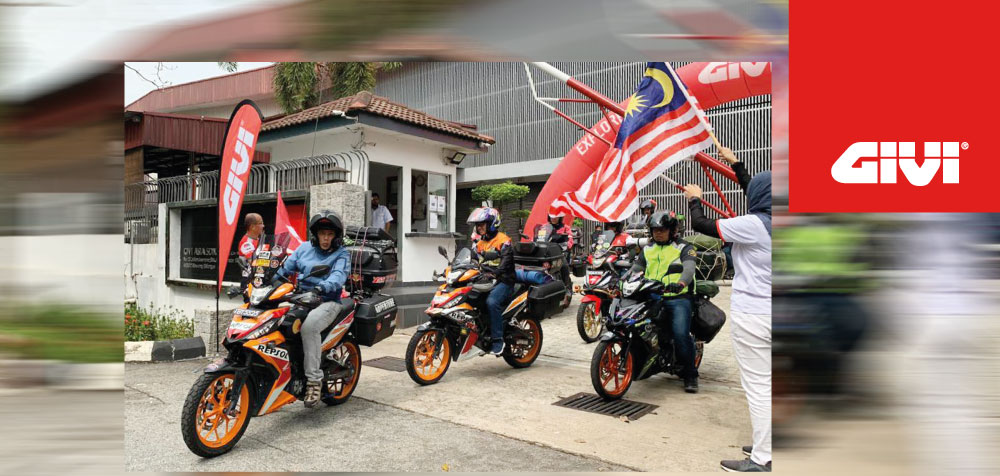 4 – 6 OCTOBER 2019
"GIVI Mega Ride and Camp" was a great success last weekend in Lata Lembik, Raub, Pahang. The three-days two-night Ride and Camp was held from
October 4th to 6th October 2019 with 60 registered participants and a good mix of motorcycle brands and engine capacities.
The flag-off ceremony was held at Givi Asia, Bukit Beruntung and officiated by the Managing Director of Givi Asia, Mr. On Hai Swee personally. Light refreshments
were served during the registration process accompanied by the safety briefings from the Givi Marshall's and a speech by Head of Marketing Givi
Asia, Mr. Samir Sharman. The total route for this trip was 328kms all round with good weather as most of the journey was bright and clear with not much
heat. The Givi lead Car provided participants with snacks and refreshments and a cooling face towel of which the participants could keep and take home as
a gift alongside the Goodie pack during registration with items such as T-shirts, Button badges, stickers and much more.
(Day 1) Upon reaching Lata Lembik at 6.30 pm, the participants were greeted with a prestige Givi branded experience and an astonishing campsite venue
by the river! they started to set up their campsite and proceeded for some well-deserved relaxation in the wilderness. Even an outdoor movie theatre was
placed for those who stayed up.
(Day 2) The morning started around 7 am and the traditional Malay cuisine" Nasi Lemak and Kopi O" was served to those already up and about… this was
preparation for "Trail Clinic" conducted by Remy Buragas from Pangkolo Riders as they needed to be energized. The clinic exposed our participants on bike
handling skills on light trails and wet conditions off the tarmac roads. Most of them were so excited as it was their first time in the jungle for an adventure trail
training.
After the trail clinic, lunch was provided by 4 Food trucks with a variety of dishes to choose from. There was also a BBQ prepared by our Givi Staff themselves
and deliciously marinated with home ingredients and a secret recipe by Sam. Entertainment was provided by the local buskers to create the chilled-out
ambiance as the evening approached into the night. The highlight of the night was the sharing session done by our Givista community ambassadors, brand
ambassadors on their adventures and fond memories, concluding the event was the reveal of our New Collection of GIVI Helmet's Vista. The preview
conducted by the Head of Marketing, Givi Asia Mr. Samir Sharman and reveal by GIVI own Brand Ambassador, Anita Yusoff.
Lastly, Mega Ride and Camp 2019 was another initiative for us to get closer to the Givista community, we hope next year Mega Ride and Camp will be bigger
and better!!! Till then… See you guys at the next adventure!!!