LADIES RIDE & CAMP #GIVIBELLA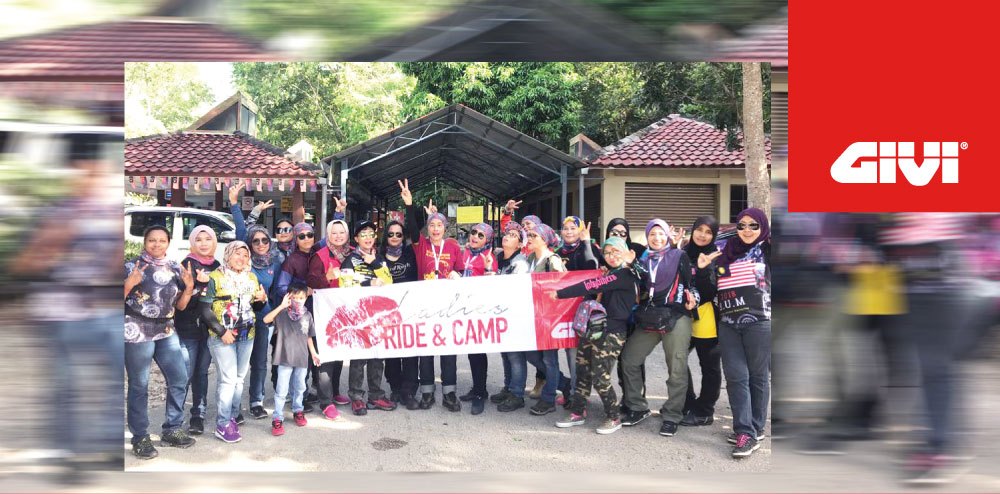 23 – 24 FEBRUARY 2019
GIVI for the first time ever had organized "Ladies Ride & Camp" in Gunung Ledang, Tangkak, Johor. The two-days one-night camping has been held from 23rd to 24th February 2019 and about 30 #GiviBellas had registered in this fun adventure riding to Gunung Ledang.
#GiviBellas is another initiative from us whereby this platform is specialized for lady bikers to share and show each other's interest on two-wheel lifestyle by sharing their activities, experiences and even anything to do with motorcycles and Givi products.
The registration of the ride started off at the main RV point at Petronas Solaris Putra, Serdang. While been briefing by the Official Marshall, Our #GiviBellas are been served with lights refreshments from our Co-sponsor, Redbull.
Upon reaching Gunung Ledang, #GiviBellas were been allocated at nearest to the river at the campsite. They are all set up and excited for their first ever camping! At night, despite having BBQ, we also managed to do some sharing session with GIVI Brand Ambassador, Anita Yusof. Been sharing about her riding to Africa such a great sharing to all our ladies' bikers. It is not only but also, some of #GiviBellas also sharing their experience on riding activities. Besides that, lucky draw session has also been flown away during that night.
Two days One Night Camping was a first- ever Fantabulous ride with the lady bikers. Not to forget to capture memories before heading back to Kuala Lumpur. We can't wait for our next #GiviBellas Ride & Camp!
Till we meet again!!