GIVISTA RIDE TO CAMERON HIGHLANDS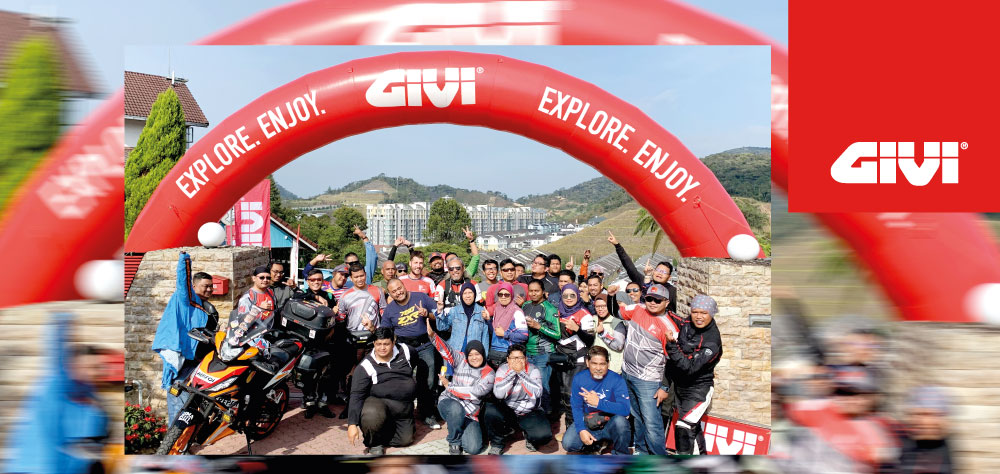 29 FEBRUARY – 1 MARCH 2020
The official Givista Community ride of 2020 kicked off on the 29th of February with a roaring start, a total of 50 participants and media guests locked the available slots almost after it was published. This time their destination was Cameron Highlands a district in Pahang also known as one of the oldest tourist spots in Malaysia well known for its beautiful surroundings, cool climate, and fun twisties. The group covered a total of 440kms for the two days, the special guest this time was Bert Boute, the world
traveller from Belgium who delayed his trip to Australia to have a taste of the local scenery and ride with the community.
The convoy was split into two groups – one for bikes 200cc and above, while the other was for bikes below 200cc for safety reasons. Upon arrival at the Villa (Dear Dino Villa), guests were greeted with chocolate-coated strawberries and hot strawberry tea. Rooms were provided adequately and some even requested to camp out beneath the stars… The night continued with a meal to remember local delights and a special BBQ prepared by the GIVI Asia Team. The highlight of the night was the sharing session by Bert who gave a presentation during the explorer sharing session where special guests are given a slot to share their experience or adventures with the participants. Bert told his adventures and shared advice to other upcoming explorers or travellers with the do's and don'ts and shared a few humorous moments as well that kept the guests glued to their seats.
Till the next ride… and next adventure "Explore. Enjoy"