GIVI XS319 XSTREAM TANKLOCK BAG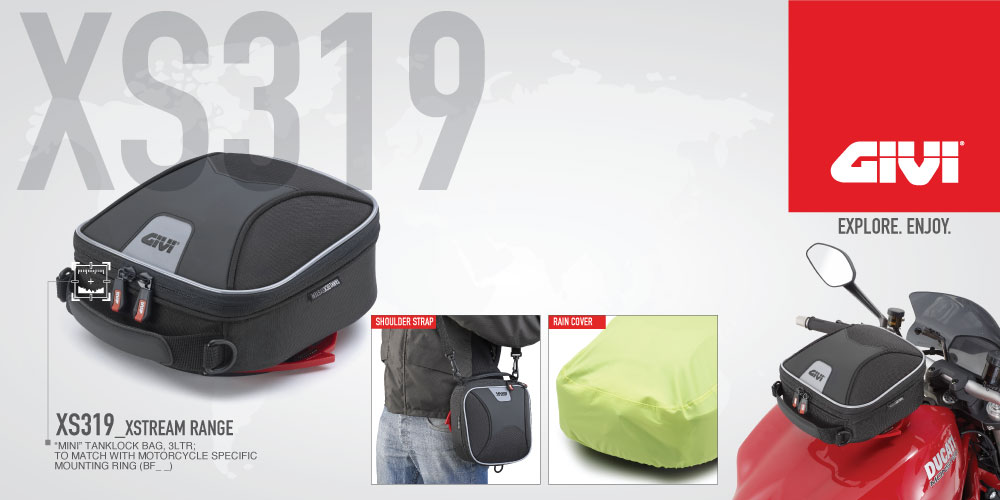 Small but useful
At GIVI we understand that all motorcyclists have different needs, wants and preferences. It thus why we have a large selection of motorcycle storage products of different sizes and designs, to cater to your specific preferences.
The tankbag is an indispensable storage item as one can use it to store sensitive and important items such as the wallet/purse, phone, powerbank and keys within easy reach and sight.
FEATURES:
3 litre storage capacity.
Up to 2 kg in carrying weight.
Mounted with Tanklock system.
Durable construction.
Fluorescent yellow rain cover provided.
Reflective panels and lining for added visibility.
Strong hand strap for easy carrying.
Shoulder strap provided for ease of carrying off the motorcycle.
USAGE EXPERIENCE:
The GIVI XS319 XStream Tanklock bag is a favourite among sportier motorcycle riders, especially for those motorcycles with non-ferrous fuel tanks. Its small shape stays out of the way of the rider in all riding conditions.
While it may seem small, it can accommodate the rider's smartphone, wallet or purse, a powerbank, keys, small camera or GoPro, and other items. These are especially essential items that are best within easy reach and the rider can keep an eye on them easily.
Also, one may install the optional GIVI Power Hub S110, S111 or S112. This hub allows the rider to charge his electronic devices while he rides.
Last but not least, the Tanklock mounting system is designed to specifically fit on your fuel tank cover. It means that you can swap out one tankbag for another with just one mounting system.
Please visit your nearest GIVI Point, GIVI Specialised or authorized GIVI dealer to view the products. You may click on this link to find their locations. Conversely, you may also visit our official Facebook page or click on this link in our website for more information for the latest news, happenings and other products.
IT PAYS TO BUY GENUINE GIVI PRODUCTS