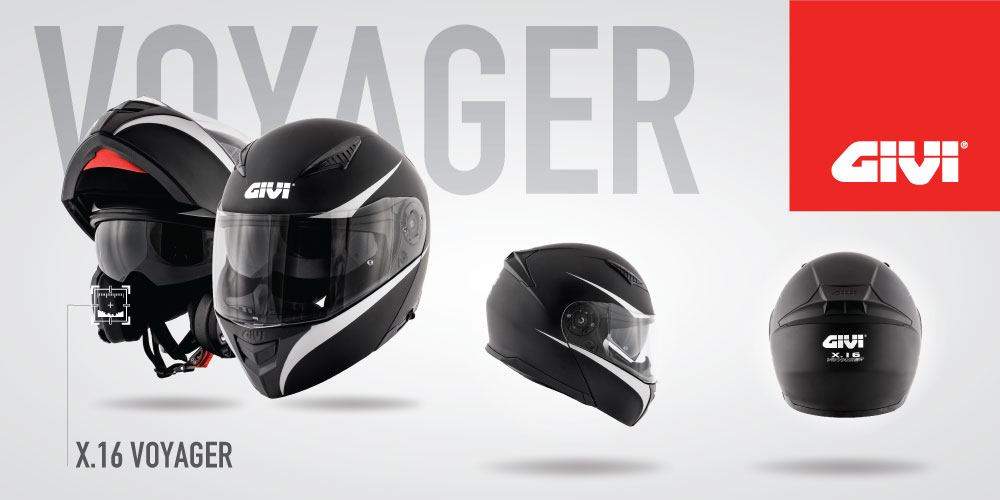 Modular helmet for the sporty rider
The GIVI X.16 is still one of the most popular modular helmets.
The main reason for its popularity is due to its sporty-shaped shell which does not look like the typical modular helmet. Such a design caters well to the sport-touring rider, but riders who commute or tour on sportbikes will find it useful, too.
Flip-up helmets are advantageous in Malaysia, where flipping the front section up allows in cool air during stops. Such a helmet also allows the rider to take in refreshments during quick fuel stops without removing it.
Features:
Technopolymer (a type of thermoplastic resin composite) shell.
Scratch resistant visor.
Pinlock anti-fog lens ready (sold separately).
Drop-down sun visor.
Chin air inlet for visor demisting
Upper air vents for cooling
Large hot air extractor at the back
Micro metric chin strap.
Breath guard to minimize visor fogging.
Chin cover to minimize wind entering helmet from below.
Removable and washable internal lining.
ECE 22.05 certified.
ECE 22.05 (P) certified for protective chinbar and ECE 22.05 (J) for protection when chinbar is flipped up.
Usage experience:
The GIVI X.16 Voyager provides that comfort necessary for those long rides. Nothing is more irritating that a helmet getting in the way.
Venting is good on this helmet due to the part-mesh comfort lining in the upper zone. We also designed the padded panels with "pipings" to channel cool air. Speaking of the comfort lining, they are covered with a type of fabric that gives the helmet as luxurious feel. The panels also mold to your facial features.
The shell was specially designed to maximized stability during high speeds. This is why the X.16 Voyager is good for sport-touring.
Please visit your nearest GIVI Point, GIVI Specialised or authorized GIVI dealer to view the products. You may click on this link to find their locations. Conversely, you may also visit our official Facebook page or click on this link in our website for more information for the latest news, happenings and other products.
IT PAYS TO BUY GENUINE