GIVI WP400 ROLL-TOP DRYBAG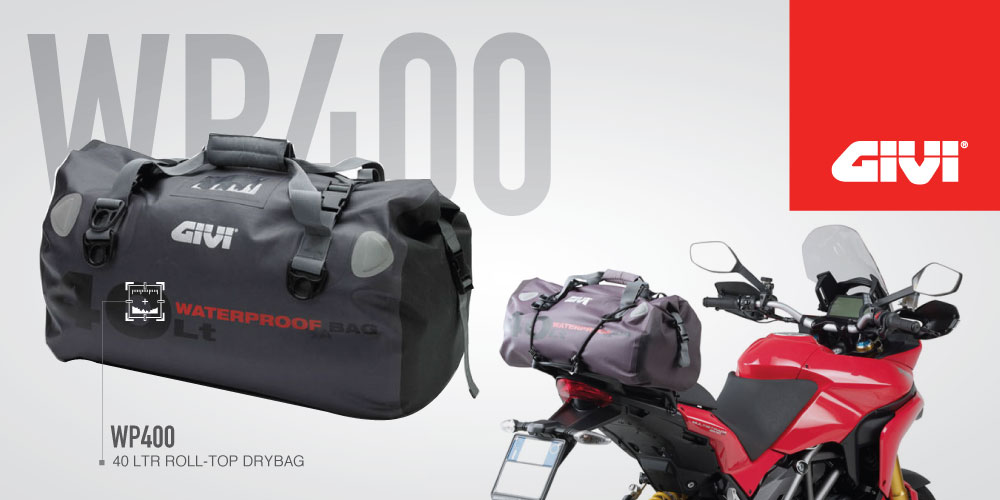 Super tough and super stylish
GIVI understands that not all riders wish to install fixed, hard luggage on their motorcycles. However, the wish for more storage space always applies.
That is why we created this product, the WP400 roll-top drybag.
Features:
40 litre capacity.
100% waterproof.
Made from TPU – thermoplastic polyurethane – which is strong yet lightweight.
Seams are electro welded to ensure long-term waterproofness.
Resistant to high and low temperatures.
Loops and eyelets for securing bag to motorcycle.
Reflective panels for extra visibility.
Ergonomic handles and shoulder straps included.
Usage experience:
The WP400 waterproof roll-top drybag is the result of GIVI's extensive knowledge in creating waterproof materials and products for riders.
The roll-top opening is thus wide and allows for easy loading of luggage. The top is then rolled, and the edges secured via fast-release buckles to keep water and dust out. No extra waterproof inner or outer cover is required, making it a load and seal affair.
At 40 litres, the rider can insert as much stuff as he needs and then some more for more than just a weekend ride. Being resistant to high temperatures also means that there's no danger of the bag warping and losing its waterproofness.
Tying the bag to the motorcycle is easy and secure as there are loops and eyelets.
Please visit your nearest GIVI Point, GIVI Specialised or authorized GIVI dealer to view the products. You may click on this link to find their locations. Conversely, you may also visit our official Facebook page or click on this link in our website for more information for the latest news, happenings and other products.
IT PAYS TO BUY GENUINE GIVI PRODUCTS