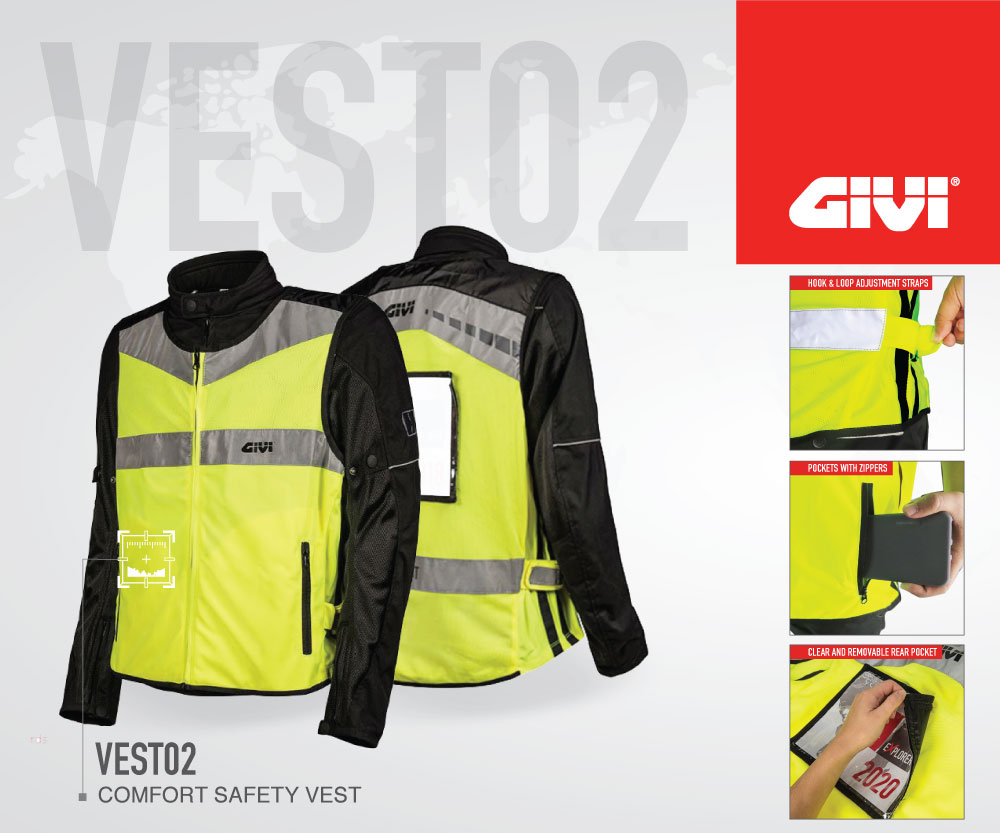 Wearing bright clothing on a motorcycle is essential.

The motorcycle has a small cross section and is very difficult to detect.

The GIVI VEST02 TREKKER VEST is made to increase the visibility of motorcyclists.
GIVI's overriding philosophy is placing rider safety at the top of the list. Hence, we designed the GIVI VEST02 Trekker Vest so that you stay safe when you are on the road.
It has been said time and again: Wearing bright clothing or gear while riding increases the chances of you being seen. Being seen is all important for safety as the motorcycle and rider constitute only a small cross-section.
FEATURES:
Conforms to European EN 1150:1999 standard for high visibility clothing.
High visibility fluorescent yellow shell.
Reflective strips on the front and back for extra visibility.
Hook and loop adjustment straps on both sides of the waist.
Side pockets with zippers on both sides.
Breathable surface ensures ample air flow.
Clear, removable pocket to insert convoy information, convoy participant number, etc.
Fits over riding jackets.
USAGE EXPERIENCE:
The vest is soft and comfortable to fit over all riding jackets. The mesh material allows air flow to the rider thus keeping him cool.
We noticed other road users of being much more aware of our presence when wearing the VEST02. Most of them are no doubt thinking that we may be law enforcement officers. Such attention is good in any sense because we do not appear all dark and invisible to them.
Our customers have worn the vest on many occasions, and they have utilised the clear back pocket to display the convoy they were riding in. Some even displayed their participant numbers for the marshals to recognise them. We usually leave the pocket off when we do not ride in convoys.
The two large pockets up front are large and can fit many things. They are not waterproof, however.
We have also heard that our media friends wear this vest when covering motosport events. Their high visibility provides a high level of safety.
Please visit your nearest GIVI Point, GIVI Specialised or authorized GIVI dealer to view the products. You may click on this link to find their locations. Conversely, you may also visit our official Facebook page or click on this link in our website for more information for the latest news, happenings and other products.
IT PAYS TO BUY GENUINE GIVI PRODUCTS