GIVI V40 TECH MONOKEY TOP CASE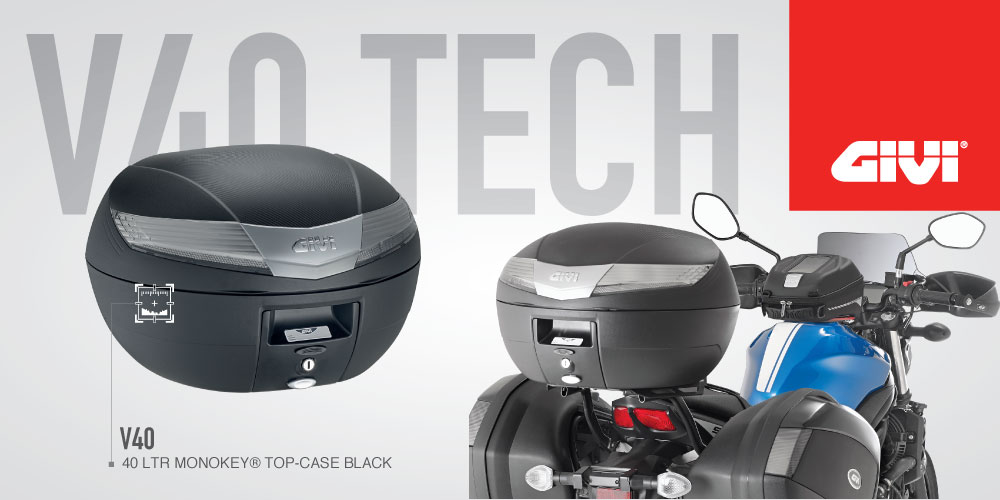 Mid-capacity, compact top case
The GIVI V40 Tech MONOKEY top case strikes a good compromise between the smaller and larger cases.
It is large enough to fit one full-face helmet and everything else.
Features:
Made of GIVI's trademark polymer that will last for years.
40-litre capacity.
Maximum load of 10 kg.
Large-size smoked reflectors for safety.
MONOKEY mounting system especially designed for large capacity bikes.
Tough and secure mounting system.
Can be fitted with the GIVI E131S Backrest.
Can be used with the GIVI S410 Universal Trolley.
Usage experience:
This product is our response to riders who need a top case that is neither too small nor too large. As such, it fits particularly well on small to large capacity motorcycles. Therefore, it looks great on midrange sport-touring motorcycles.
The GIVI MONOKEY mounting system is specially designed for large capacity bikes. The V40 Tech top case is hence suited to bikes that travel at higher speeds.
The MONOKEY mounting gave the case a stable base with no hopping around even when riding on bumpy roads. Its 30-litre capacity is well tailored to fit everyday and weekend items.
Please visit your nearest GIVI Point, GIVI Specialised or authorized GIVI dealer to view the products. You may click on this link to find their locations. Conversely, you may also visit our official Facebook page or click on this link in our website for more information for the latest news, happenings and other products.
IT PAYS TO BUY GENUINE GIVI PRODUCTS