GIVI V37 MONOKEY SIDE CASE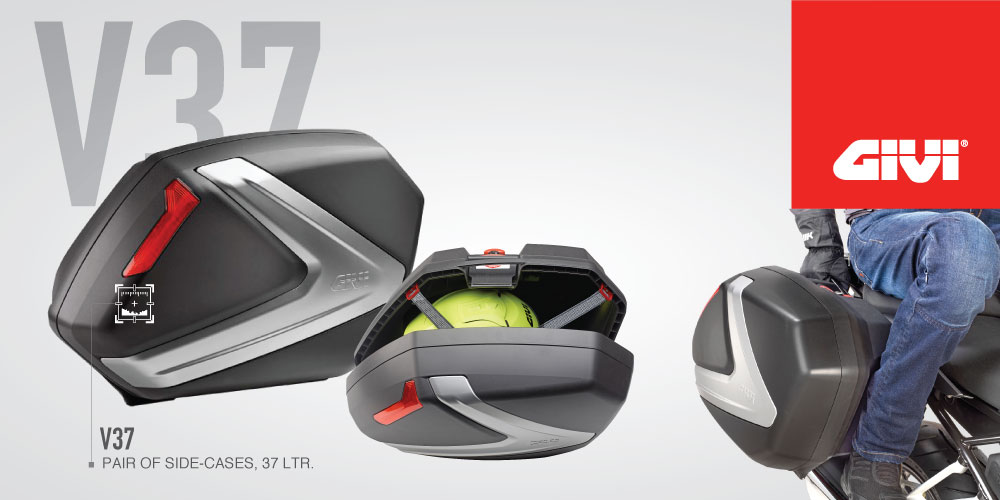 The GIVI V37 Monokey side case builds on the success of the popular V35 Monokey.
The V37 offers a new dynamic look which will perfectly complement the aesthetics of the new crop of sport-touring and adventure-touring motorcycles such as the Yamaha Tracer 700 and 900; Modenas Dominar D400; KTM 1050 Adventure; Kawasaki Versys-X, 650 and 1000, Honda NCX500 and so forth.
The lid covers the entire side, providing a cleaner profile, while the silver-painted insert provides a dynamic visual cue.
Its 37-litre capacity is great improvement over its predecessor, as we wanted to create a side case that's stylish while providing truly available storage capacity at the same time.
Features:
37-liter capacity.
GIVI Monolock technology.
Made using GIVI's proprietary anti-UV polymer technology.
Fits one full-faced helmet.
Maximum carrying load of up to 10kg.
Reflector for visibility and safety.
4-point Monokey Side mounting system compatible with PLX and PLXR mounts.
Comfort for passenger due to ergonomic design.
Embossed GIVI logo.
Also available:
V37 Tech with smoked reflective lens.
V37NN with carbon fibre-like insert.
V37NNT with carbon fibre-like insert and smoked reflective lens.
Usage Experience:
Mounted on a Yamaha Tracer 900, the GIVI V37 looked as if they were OEM side cases from the manufacturer. The profile of the case and width fitted in with the bike's multi-faceted bodywork. Should the rider repaint the bike to black, the V37NN and V37NNT are the perfect partners for a stealthy-looking bike.
In fact, the design of the V37 is such that it would also look great on just about any bike with sharpish lines, such as naked bikes.
Using the cases makes life much easier especially that the lid covers the side, making loading and off-loading cargo much simpler without needing to squeeze and push things into the space.
The 37-litre space can store a modular GIVI helmet so storing other helmets in the market should not be a problem.
Please visit your nearest GIVI Point, GIVI Specialised or authorized GIVI dealer to view the products. You may click on this link to find their locations. Conversely, you may also visit our official Facebook page or click on this link in our website for more information for the latest news, happenings and other products.
IT PAYS TO BUY GENUINE GIVI PRODUCTS