GIVI TRK35B TREKKER OUTBACK MONOKEY CASE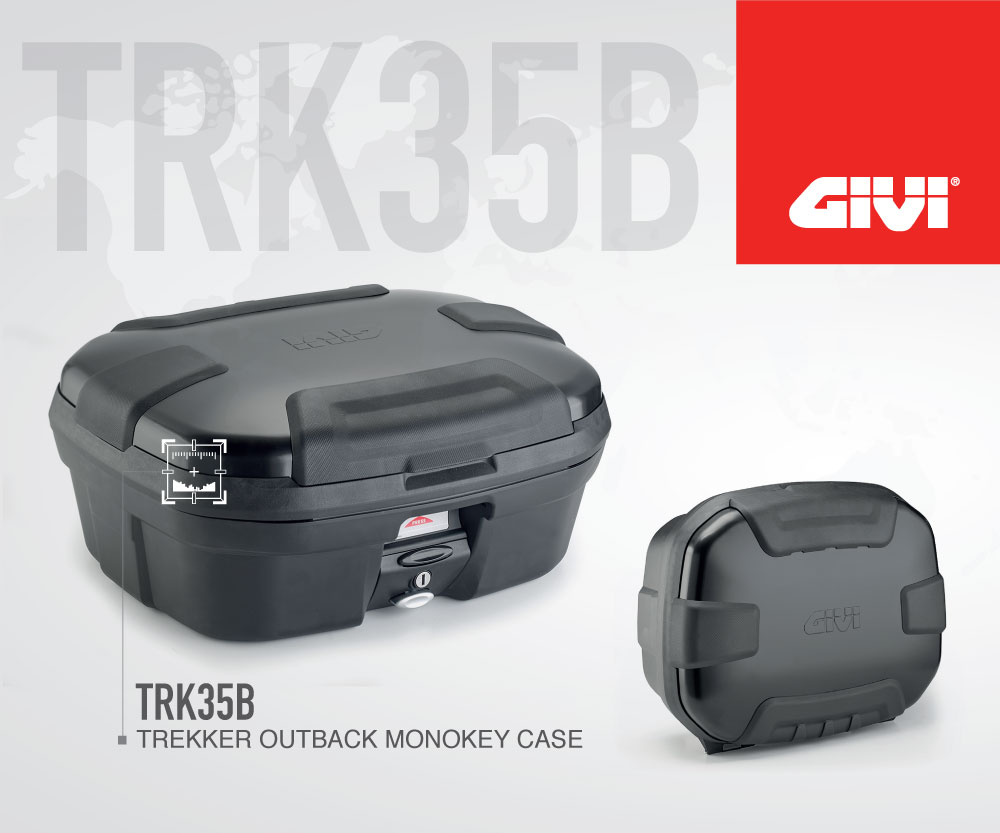 The GIVI Trekker Outback series has been a popular choice for riders of all types. Its popularity is due to its styling and without doubt its toughness and reliability in all the toughest conditions.
The TRK35B is the latest evolution in the Trekker range and now sees an even more stylish design without sacrificing space and GIVI's trademark toughness.
FEATURES:
35 litre storage capacity.
Up to 10 kg in carrying weight.
Can be mounted as a top case with Monokey plates.
Can be mounted as side cases with PL and PLR frames.
Aluminium construction.
Anodized black paint.
Airtight seal ensures waterproofing.
Accessible through top hatch.
Also available in unpainted aluminium TRK35N.
USAGE EXPERIENCE:
The GIVI TRK35B is stylish addition to the family and would thus be a fitting addition to any modern motorcycle. Its prism-like edges provide smooth lines for the eyes. These smooth surfaces also play a great part in ensuring smooth airflow while the motorcycle is at speed. These features were designed with latest crop of sporty and high-powered sport-tourers in mind.
Another appeal is its flexibility of mounting styles. One could use just one as a top case, or mount one on each side of the motorcycle, or three altogether as a set.
Also a great feature is the top hatch which allows the rider to access the contents of the box without opening the entire top clamshell. This is especially useful when the case if filled to the brim.
Please visit your nearest GIVI Point, GIVI Specialised or authorized GIVI dealer to view the products. You may click on this link to find their locations. Conversely, you may also visit our official Facebook page or click on this link in our website for more information for the latest news, happenings and other products.
IT PAYS TO BUY GENUINE GIVI PRODUCTS