GIVI Trekker Outback 58-Litre 2018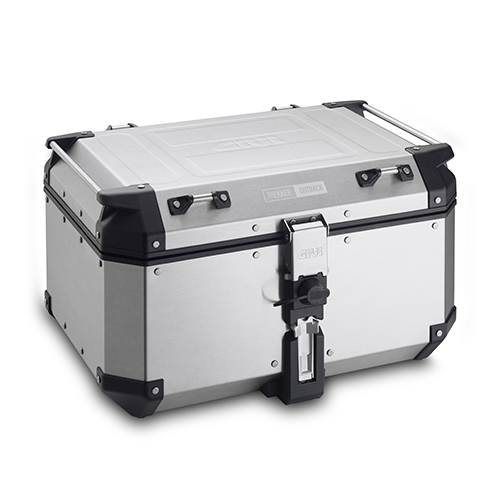 Style and function meet strength and reliability
The GIVI Outback line-up has defined the standard for aluminium hard cases hence why almost – if not every – hard case looks like it.
As usual, GIVI made the Outback to be tough and functional. But we have also added the element of style to it. That is why the GIVI Outback series consists of he most popular aluminium hard cases.
We present here the 58-litre Outback aluminium hard case which has been recently updated for 2018.
Features:
Large capacity to accommodate 2 full-face or 2 modular helmets.
Flat lid surface allows it to be used as extra carrying space.
High-strength strap loops on the sides of the lid, allowing you to strap down luggage on the lid.
Soft internal mat (removable) to absorb shocks.
Usage Experience:
E161 Inner elastic carrying net, which you attach to the bottom of the lid to hold smaller items.
S351 Pair of Trekker strap belt. They have a maximum traction load of 75kg.
E162 Stainless steel support for SFT500S thermal bottle.
S410 Universal trolley base. It turns the case mounted on it into a trolley luggage.
Usage Experience:
We have traveled with the Outback 58-litre (and the 42-litre) on many occasions.
We love its toughness, first and foremost. It never fails to close securely and keep the elements out of the case. However, toughness is also a word used by our competitors. Until when it is truly proven.
We witnessed a buddy of ours crashing in front of us during a ride. His bike was thrown into a 3-metre-deep ditch and ended up with its top sloping downwards. The bike's right side was totally destroyed and its frame was bent. The headlamp was smashed, handlebar was bent upwards, subframe was cracked.
However, the Trekker Outback top case and Trekker Outback side hard bags did not only stay on the bike, but they did not split open. The rider and his wife were thankfully okay, and they did not lose a single item they stored in the hard cases.
Apart from strength, convenience is important. The strap loops are definitely a much-welcomed feature. You could strap on other items such as a sleeping bag or foldaway tent on top of the Trekker Outback case. Although you may use other straps or bungee cords, we strongly recommend that you use the S351 straps as each is rated at a maximum traction load of 75kg.
The GIVI Trekker Outback 58-litre top case comes in two finishes, aluminium and black.
Please visit your nearest GIVI Point, GIVI Specialised or authorized GIVI dealer to view the products. You may click on this link to find their locations. Conversely, you may also visit our official Facebook page or click on this link in our website for more information for the latest news, happenings and other products.
IT PAYS TO BUY GENUINE