GIVI Trekker Outback 37- and 48-Litre Side Hardbags 2018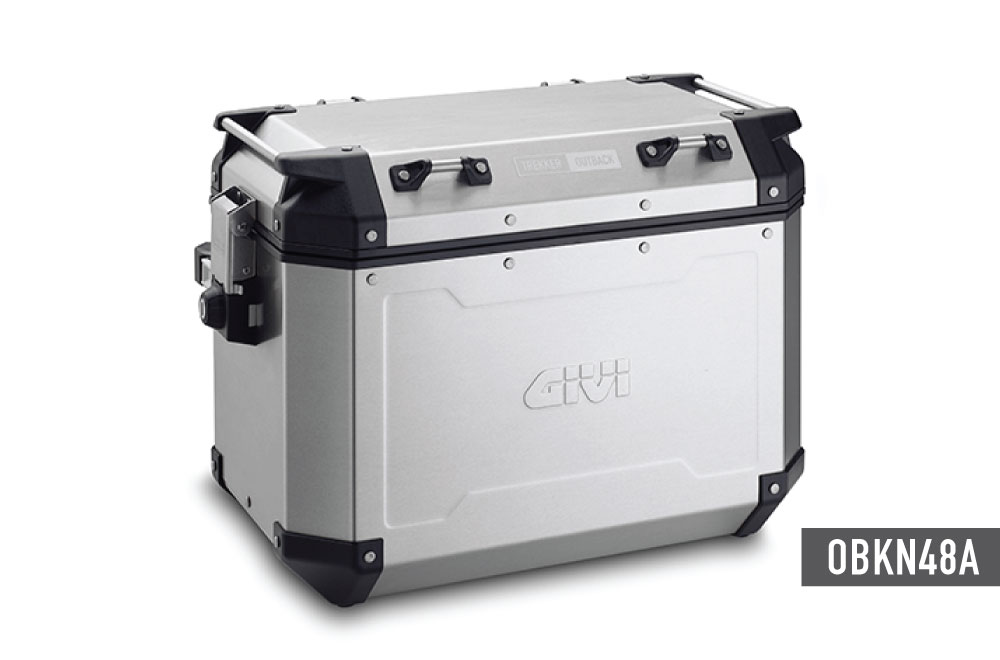 Everyone needs sturdy sidebags
Just as the GIVI Trekker Outback top boxes, the Trekker Outback Side Hardbag define the standard for aluminium side panniers.
Made of high-grade aluminium, these hardcases are not only built to be tough, but also to be functional, practical and reliable at all times. As such, it is not surprising to see so many adventure and touring riders mount them to their BMW R 1200 GS, Yamaha MT-09 Tracer, KTM Adventure range and so on.
GIVI offers the Trekker Outback Side Hardbags in 37- and 48-litre capacities. You may mount the 37-litre case over where the exhaust exits and the 48-litre on the other side.
Features:
Large capacity to carry up to 10 kg for both models.
The 48-litre model can fit a modular full-face helmet.
Lid swings open fully and is removable to facilitate ease of loading.
Easy to detach without tools (from inside).
High-strength loops on the lid.
Flat lid surface allows more luggage to be strapped on to it.
Optional Accessories:
E144 Inner elastic carrying net, which attaches to the bottom of the lid to hold smaller items.
E162 Stainless steel support for SFT500S thermal bottle.
UT807B 20-litre expandable water-resistant cargo bag.
GRT702 20-litre cylindrical waterproof bag.
E143 Padded handles. Attaches to the loops, turning the case into a luggage.
E145 Pair of reflective stickers.
E146 Adhesive rubber strips for the lid to further secure items mounted on top. (set of 3.)
E148 Removable stainless-steel support for TAN01 jerry can (sold separately).
T506 and T507 35-litre and 45-liter waterproof inner bag for 37-litre and 48-liter case, respectively.
Usage Experience:
The Trekker Outback Side Hardcases were the main equipment during our adventure rides. Being water-resistant, there was no water ingress while riding in the rain. However, we do advise that you insert the T506 or T507 inner bags should your route include river crossings.
These hardbags were also equipped on the Honda Africa Twin which crashed heavily in Thailand (please refer to the story in the GIVI Trekker Outback top case article). The motorcycle was a total loss. However, both GIVI Trekker Outback hardbags stayed intact and did not split open in the accident. In fact, the left sidecase maintained its integrity despite being hit by the pickup truck which caused the crash.
Having these hardbags yield another benefit should the motorcycle dropped over. They act as frame protectors, keeping the bike from falling fully onto its side. Consequently, the motorcycle will not be terribly damaged, and it is easier to be picked back up.
The GIVI Trekker Outback Side Hardbags are offered in two finished: Natural aluminium and matt black called "Black Line."
Please visit your nearest GIVI Point, GIVI Specialised or authorized GIVI dealer to view the products. You may click on this link to find their locations. Conversely, you may also visit our official Facebook page or click on this link in our website for more information for the latest news, happenings and other products.
IT PAYS TO BUY GENUINE