GIVI TR40 TRAVEL HOLSTER BAG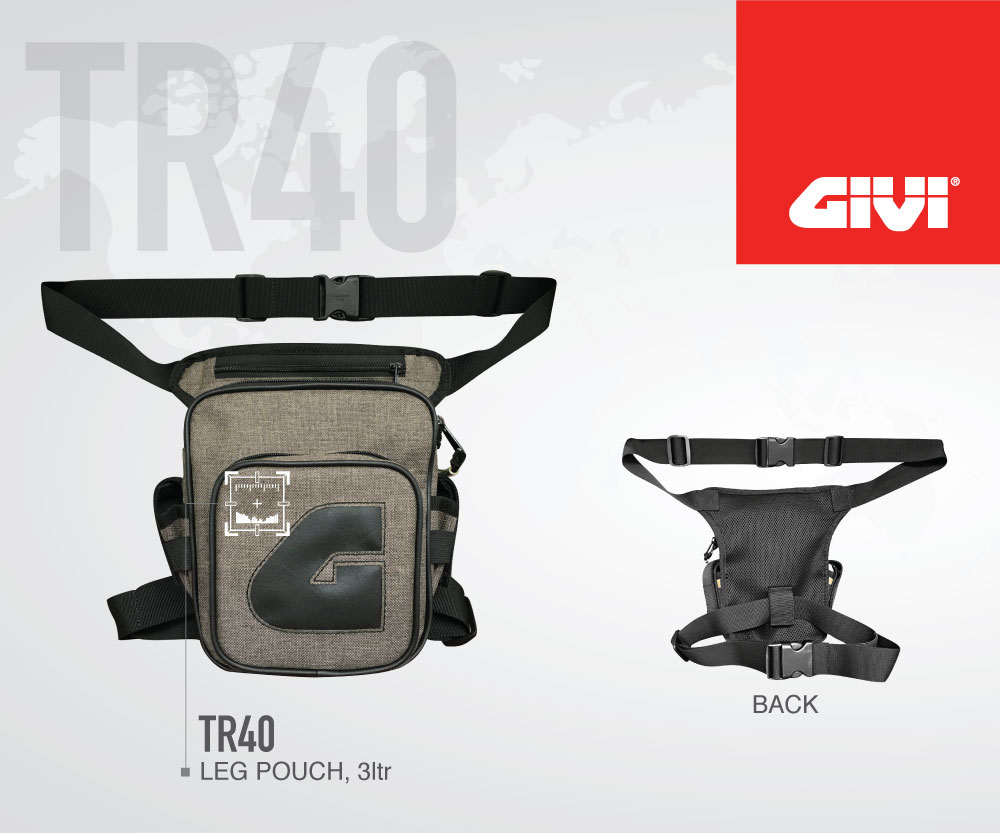 Large sized hip bag for all purposes
At GIVI we understand that everyone has a different taste or need, especially when it comes to riding luggage and need to carry cargo.
Apart from all the cases, bags and pouches, we also offer this new TR40 Holster Bag which fits to your thigh for secure carrying and easy reach to your items.
FEATURES:
550D polyester and PU leather material.
3-litre capacity.
Large opening external pocket.
Large opening for main compartment with two zippers.
Zippers designed for easy operation with gloves on.
Adjustable straps.
Reflective striping for added visibility.
USAGE EXPERIENCE:
The GIVI TR40 Travel Holster Bag (leg bag) provides additional carrying space that is tied closely to the rider. This way, the rider can ensure that his most important valuables are in a bag that is easily watched by him and easily accessible to him in times of need.
The main compartment is large enough to fit a pair of summer riding gloves, a wallet and smartphone. The rider may choose to carry smaller items such as coins or keys in the smaller compartment.
Regardless of which compartment, they are designed with large openings for easy reach even with a gloved hand. We understand that it is inconvenient if a rider needs to remove his gloves just to reach for his wallet or other items.
The TR40 has two straps, one secures it to the rider's waist, while the other ties around the rider's thigh. Doing so secures the bag close to the rider so that he may ride with a peace of mind.
Please visit your nearest GIVI Point, GIVI Specialised or authorized GIVI dealer to view the products. You may click on this link to find their locations. Conversely, you may also visit our official Facebook page or click on this link in our website for more information for the latest news, happenings and other products.
IT PAYS TO BUY GENUINE GIVI PRODUCTS