GIVI TR30C TRAVEL SLING BAG – CAMO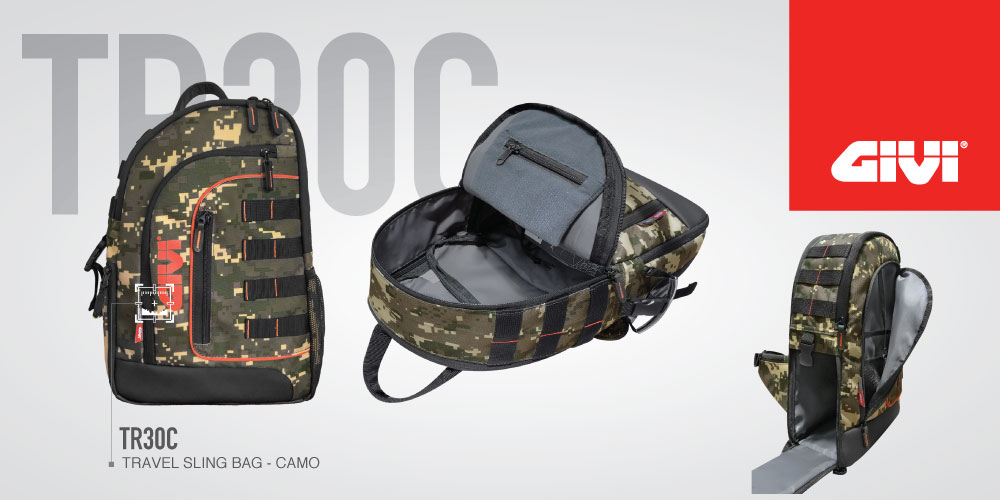 Pockets, pockets and more pockets
In addition to motorcycle luggage, GIVI also produces many types of bags to the convenience of motorcyclists. We believe that bags should not only be of benefit to riders when they are riding but also when they are off the bike or not riding.
One such example is the new TR30C Travel Sling Bag. But it is more than just a shoulder bag.
FEATURES:
Made from strong 600D polyester.
PU leather reinforcements.
Compact but versatile.
Multiple pockets and compartments.
Different ways of accessing them.
External water bottle pocket
Compartment for 14" laptop.
Padded shoulder strap.
18-litre carrying space.
The TR30C allows you to store multiple items in one go.
The multiple compartments at the front are of different sizes and a consequence, you could allocate separate items in each of them. Items such as a notepad, pens, cards, memory cards go well here.
The bag is designed akin a camera bag. As such, it has a separator between the top and bottom main compartment. Furthermore, the insides are lined with soft felt-like material to protect the contents.
There is also a double-zippered side from which the user can access the contents, making it easy to pull out important items in a hurry i.e. a camera.
The TR30C is easy to sling when one is riding a motorcycle, but remains stylish and useful when out and about the town.
Please visit your nearest GIVI Point, GIVI Specialised or authorized GIVI dealer to view the products. You may click on this link to find their locations. Conversely, you may also visit our official Facebook page or click on this link in our website for more information for the latest news, happenings and other products.
IT PAYS TO BUY GENUINE GIVI PRODUCTS