GIVI T443C INNER BAGS FOR GIVI V35, GIVI V37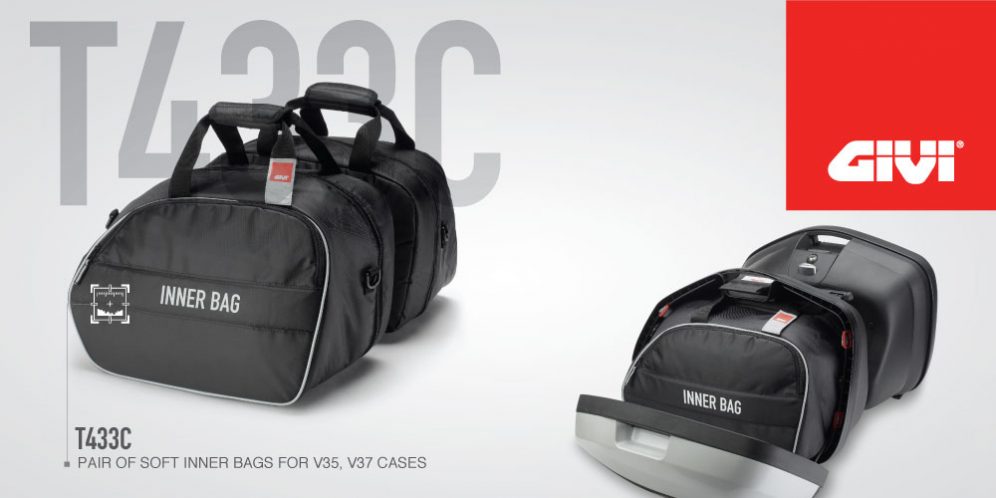 Fit like a glove
The GIVI T433C Inner Bags are made to fit the GIVI V35 and GIVI V37 hard side cases.
Rather than struggle to fit a backpack or any bag of other shapes, the T433C Inner Bags slot right in.
Features:
Made of strong material that will last for years.
Zipper opens like the case allowing for easy access to items inside.
Each halve of the bag can be used for storage.
Easy carry handle.
Shoulder strap included.
Reflective inserts.
Usage experience:
This product is the direct response to V35 and V37 owners who found it difficult to fit their "standard" backpacks into the cases. It also saves your backpack from being distorted out of shape.
As mentioned above, the T433C fit directly into the side cases without struggle. Since they open like how the side cases do, you can access the items inside with ease during short stops.
The carry handle and shoulder strap allow the bags to be extracted from the case and carried into your house or at your destination, rather than carry the entire hard case.
The GIVI T433C is sold in pairs.
Please visit your nearest GIVI Point, GIVI Specialised or authorized GIVI dealer to view the products. You may click on this link to find their locations. Conversely, you may also visit our official Facebook page or click on this link in our website for more information for the latest news, happenings and other products.
IT PAYS TO BUY GENUINE GIVI PRODUCTS