GIVI S301 First Aid Kit for Motorcyclists
The GIVI S301 First Aid Kit is an essential item for every motorcyclist.

It is compact enough to fit under a motorcycle seat.

Yet packed with essential items for emergencies.
To say that the GIVI S301 First Aid Kit is an essential item for every motorcyclist is an understatement, because everyone, a rider or otherwise, should always have one nearby. As the saying goes, it is better to have it and not need it, rather than not have it when you need it.
Preparing for each ride is just as important as the bike itself. We may be suited up in protective wear from head to toe, but there are always the unfortunate circumstances to watch out for.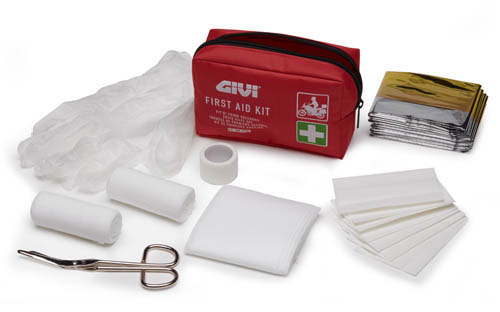 The kit includes:
Bandages;
Adhesive tape;
Self-adhesive bandages;
Gauze;
Scissors;
PVC gloves;
Isothermal blanket.
A first aid kit should be on every motorcyclist's must-have list. We call it "wajib" in Bahasa Melayu.
Every motorcyclist knows the risks of riding in the back of their minds and we are prone to nicks and cuts, at minimum, despite not being involved in a major crash. For example, your buddy's tyre could kick up a stone which smashes onto your shin.
Injuries are even more prone to happen when one rides off-road. A tree branch could slap you on the face or a sharp bump could cause your feet to slip off the footpegs.
Oh yes, we have been there on more than one occasion (including at several GIVI Rimba Raid events).
The GIVI S301 First Aid Kit is truly compact to carry in a GIVI waist pouch or even under the motorcycle's seat. Such convenience is necessary since storage space on motorcycles is always a premium.
Please visit your nearest GIVI Point, GIVI Specialised or authorized GIVI dealer to view the products. You may click on this link to find their locations. Conversely, you may also visit our official Facebook page or click on this link in our website for more information for the latest news, happenings and other products.
IT PAYS TO BUY GENUINE