GIVI RSB01 Rider Tech Saddle Bag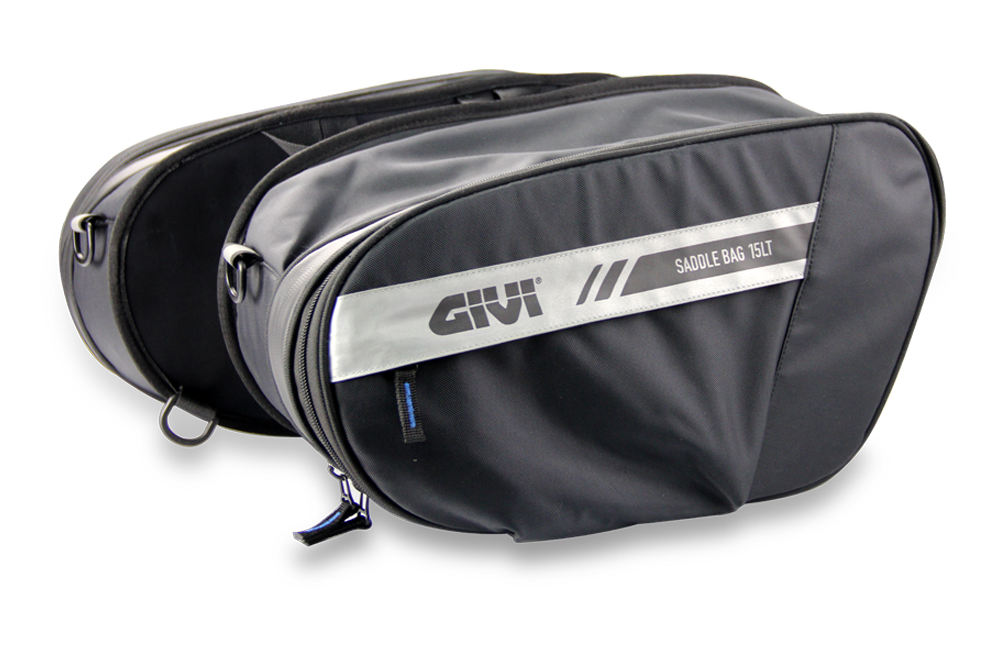 Lightweight, compact, portable
GIVI understands there are motorcyclists who prefer motorcycle luggage that are lightweight, compact and portable. Besides those factors, the rider does not need to install a carrier on his motorcycle.
GIVI's excellent tank bags are built for this very purpose, but you may add more storage space with the GIVI RSB01 Rider Tech Saddle Bag.
Features:
Tough and long-lasting material.
15-litre storage capacity (each side).
The saddlebags are expandable to increase storage space.
DOES NOT require mounting brackets on the bike.
Hard shell to maintain shape, hence not needing the mounting brackets.
Waterproof cover supplied.
Drainage system allows water to flow out quickly rather than pooling.
Waterproof compartment included.
Tough carry strap.
Large, bright reflective stripes on the back and side.
Usage Experience:
The GIVI RSB01 Rider Tech Saddle Bag is ideal to motorcyclists who do not want to leave mounting brackets on their motorcycles. Therefore, the product is perfect for sportbike and naked bike owners. Apart from that, the RSB01 are small enough to not impede airflow.
Additionally, is it easy to install the bags over or under the rear seat of the bike. Being lightweight themselves eases the task of carrying them into the house or hotel room.
The GIVI RSB01 Rider Tech Saddle bag is priced at RM 368.00 (inclusive of SST).
Please visit your nearest GIVI Point, GIVI Specialised or authorized GIVI dealer to view the products. You may click on this link to find their locations. Conversely, you may also visit our official Facebook page or click on this link in our website for more information for the latest news, happenings and other products.
IT PAYS TO BUY GENUINE