GIVI RRS04.AX RIDER TECH RAIN SUIT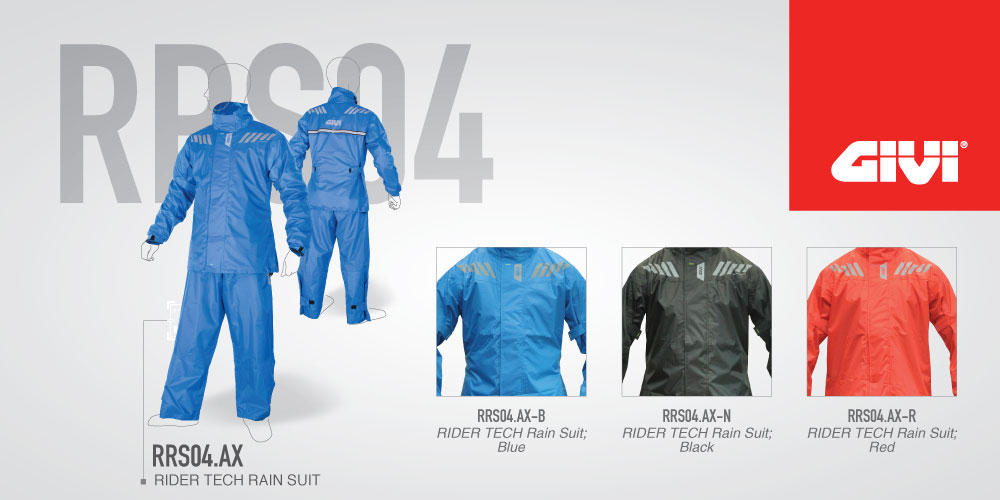 Lightweight, comfortable, affordable 
The GIVI RRS04.AX Rider Tech rain suit is essential to every rider who wants a rain suit that which is lightweight, comfortable and affordable.
Features:
Poly 190T PVC material.
3000mm water column waterproofness.
Adjustable wrist enclosures.
Adjustable leg enclosures.
Adjustable jacket enclosure.
Adjustable waist.
Elastic cord for hip adjustment.
Waterproof phone compartment.
Air vent.
Usage experience:
The RRS04.AX rain suit is another model in GIVI's extensive rain suit lineup and represents our experience in making the best rain suits in the market, bar none.
The material is lighter, making it easier to fold away and carry along. But as light as it is, the material is strong to last many years. It also makes the rain suit more breathable so that the wearer does not feel hot underneath. Besides that, it is easier for the wearer to move about.
The vent at the back of the jacket allows hot air to be ejected, thereby enhancing the wearer's comfort.
Customer praised its usefulness in our fickle Malaysian weather where rain could come and go at any moment while riding. There are many occasions when the weather is stillwarm despite heavy rain.
Therefore, the RRS04.AX can be worn on in anticipation of the next rainstorm without the worry of getting too hot inside.
Please visit your nearest GIVI Point, GIVI Specialised or authorized GIVI dealer to view the products. You may click on this link to find their locations. Conversely, you may also visit our official Facebook page or click on this link in our website for more information for the latest news, happenings and other products.
IT PAYS TO BUY GENUINE