GIVI PRS04.AX Prime Rain Suit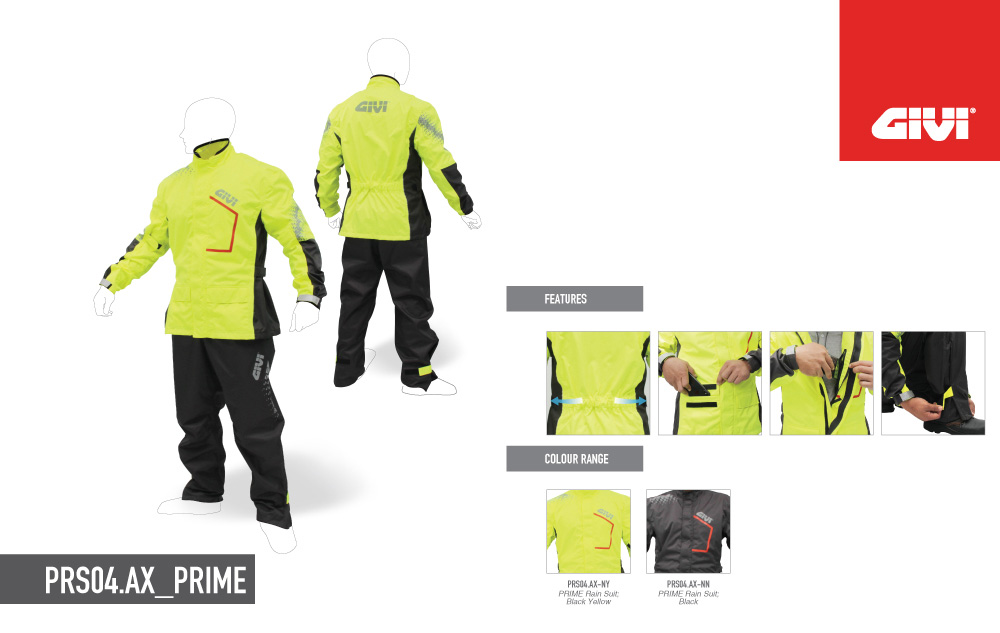 New Addition to the Prime Waterproof Range
The GIVI PRS04.AX rain suit is the latest addition to our extensive waterproof line-up.
Along with its introduction are new materials and styling, but with the same waterproof qualities that make GIVI rain suits the best in the business.
Features:
Poly 150D PU material.
8000mm water column waterproof rating.
Adjusters for upper arms, wrists and waist and pant legs.
Elastic band on the back of the waist.
1 internal and 2 external pockets.
Foldaway hood.
Elastic cuffs and pants waist.
Reflective wordings and panels for visibility and safety.
Drawstring pouch included.
Available in High-Visibility Black/Yellow and Black.
Sizes from S to 6XL.
Usage experience:
The PRS04.AX Prime rain suit continues GIVI's expertise in producing truly waterproof rain gear.
The new material is soft and breathable for maximum comfort.
It also features a more contemporary styling with a larger yellow panel (for the Black/Yellow version) for maximum visibility in the rain. Reflective panels and letterings light up with just a hint of light.
Apart from that, it now has 3 pockets instead of the normal 2. It means you can store more items in a waterproof environment than before.
Last but not least, the foldaway hood means you can turn the rain suit into a standard rain suit/poncho when you are off your motorcycle.
The GIVI PRS04.AX Prime rain suit is priced from RM 485.00 (including SST).
Please visit your nearest GIVI Point, GIVI Specialised or authorized GIVI dealer to view the products. You may click on this link to find their locations. Conversely, you may also visit our official Facebook page or click on this link in our website for more information for the latest news, happenings and other products.
IT PAYS TO BUY GENUINE