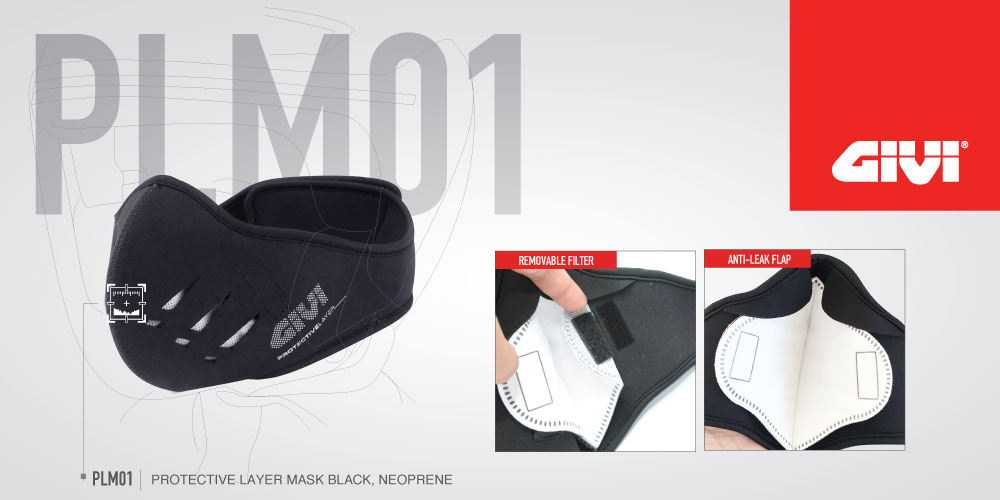 Beat pollution and Covid-19
We are in an age of "newnorm" due to the Covid-19 pandemic and the face mask has become a necessity. The GIVI PLM01 Riding Mask is meant as a filter against traffic pollutants but it also fits this role perfectly.
Features:
Velco strap for adjustability.
Stretchable construction.
Additional filter.
Usage experience:
Wearing a normal mask under a motorcycle helmet is cumbersome, as the helmet's cheek pads will either pull the mask off the nose and mouth or overtighten it against the face.
This is why the GIVI PLM01 has a low side profile, with adjustable Velcro fastening at the back of the neck.
The cloth filter is thick and filters out traffic pollutants such as dust and smoke effectively. As such, it should also filter out germs rather effectively.
Best of all, the filter is washable instead of being disposable. Consequently, the PLM01 lasts for a long time and saves money in the long run.
It also means that you do not have to forgo a mask or stash one somewhere and risk damaging it.
Please visit your nearest GIVI Point, GIVI Specialised or authorized GIVI dealer to view the products. You may click on this link to find their locations. Conversely, you may also visit our official Facebook page or click on this link in our website for more information for the latest news, happenings and other products.
IT PAYS TO BUY GENUINE GIVI PRODUCTS