GIVI MT503 METRO-T ROLL BAG FOR FORK/TAIL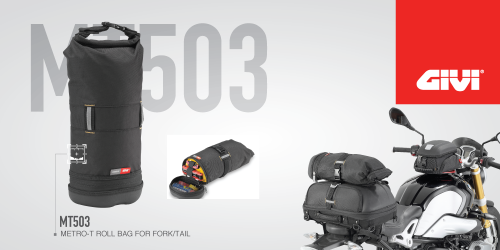 Rollin', Rollin', Rollin'
As you can see, GIVI comes up with novel solutions to assist you in taking care of your luggage needs during your motorcycle travels. We are not only about cases or tank bags or backpacks, as this GIVI MT503 Metro-T Roll Bag for Fork/Tail demonstrates.
Features:
4-litre capacity.
Can be mounted in combination with MT502 Metro-T bag.
Can be mounted crosswise between the motorcycle's front forks.
Can be strapped down on the back of the bike.
Roll top enclosure.
Main compartment seams are sealed to guarantee water resistance.
Inner pocket for personal items such as smartphone and wallet.
Separate compartment for tools, utility/maintenance items/emergency fixes.
Zippers on the extra compartment can be padlocked.
Reflective inserts for safety.
Usage experience:
The GIVI MT503 Metro-T Roll Bag for Fork/Tail offers an extra 4-litres of storage, to be used as a standalone item or as an expansion.
Attached to the motorcycle's forks, it can serve as a tool pouch, and it does not look out of place on a classic bike or cruiser. There is ample space for your tools, so you can carry them in this bag separated from your clothing or other important items.
Some of us use it to carry our GIVI waterproof rain suits.
Whatever your needs are, this product is an indispensable part of your motorcycling experience.
Please visit your nearest GIVI Point, GIVI Specialised or authorized GIVI dealer to view the products. You may click on this link to find their locations. Conversely, you may also visit our official Facebook page or click on this link in our website for more information for the latest news, happenings and other products.
IT PAYS TO BUY GENUINE