GIVI MOTOWAZI MARSHAL RIDING SAFETY COURSE (LEVEL 2)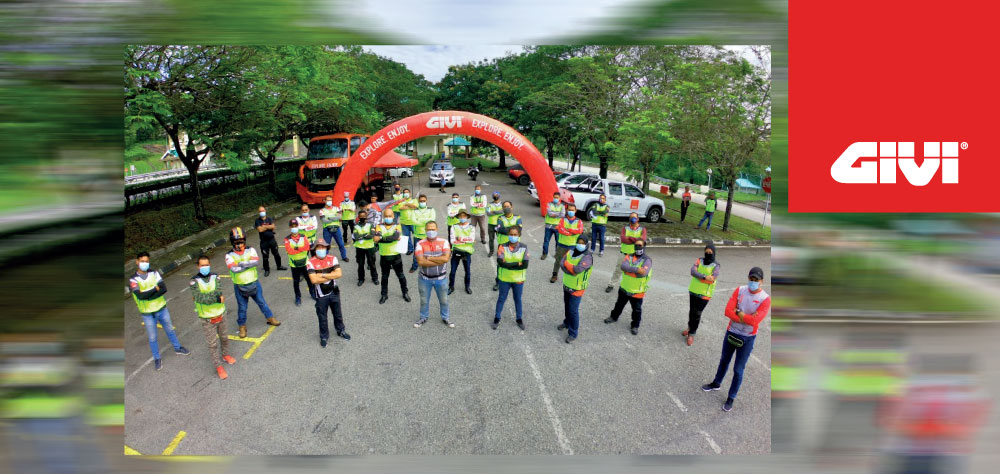 4 OCTOBER 2020 
After a successful event with Motowazi in September, Givi & Motowazi continued the "Level 2- Marshal Riding Safety Course" at Speedway Plus Karting Circuit, Shah Alam. A total of 40 pax participated for the follow up session.
As we are in a new norm, registering health screening forms and temperature checks to all attendees is compulsory, starting with a short briefing from our Instructor Haji Wazi, covering topics such as hand signals, formations, identifying routes and practical marshalling techniques on the road.
Participants were assigned to their groups and conducted their own briefings before they headed out for the 100KM practical session in Putrajaya. This is where they are tested on the application of speed, spacing, hand signalling and controlling the group ride techniques. Each participant took turns to apply all the techniques learned during the morning brief and class. They were supported by the Putrajaya Police outriders throughout the journey and under the guidance of specially selected senior marshals on duty.
After 3 hours on the road, they had a buffet lunch at Kota Warisan, Putrajaya before continuing their route and practical learning. Total hours of practical learning during that day was 5 hours with beautiful sunny weather. The practical on marshalling techniques ended at Shah Alam from the original starting point, and the course ended with a certificate ceremony to all participant and group photos.
Overall, we hope by organizing this event, all riders out there can practice and improve their safety awareness on the road especially during riding in a group. Marshalling techniques is not only about how you lead; it is also about how you handle your group safety during riding. This event was another successful collaboration with Motowazi and We hope to collaborate more in the future!