GIVI M35.0 SCUDO JET HELMET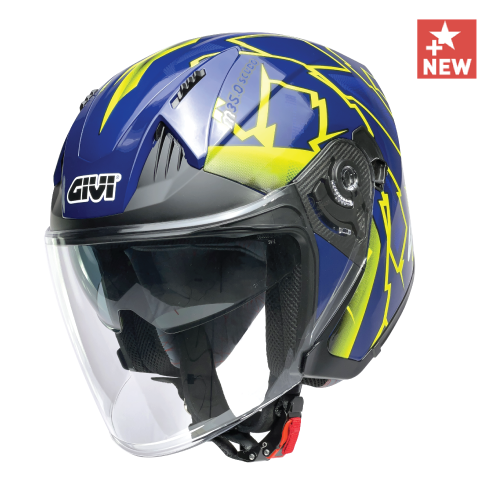 The GIVI M35.0 Scudo is the first jet-type helmet in Malaysia certified to the new ECE R22.06 standard.

It is also specifically designed for the Asian market, thus has an Asian fit.

Safety and comfort, along with new style.
Motorcyclists should be fully aware by now that the helmet is the most important item among all riding gear. But GIVI is also fully aware that the helmet must be stylish, besides being comfortable. The new GIVI M35.0 Scudo jet helmet fits all these requirements and more.
FEATURES:
Approved to the latest ECE R22.06 helmet standard.
Asian fit for Asian head shape.
Double visor with drop-down sunvisor, both conform to new ECE standard.
Antiscratch and optically-correct main visor.
Optically-correct sunvisor.
Main visor tested against projectile penetration.
Removable comfort padding for washing.
Anallergic coating on comfort padding.
Micrometric chin strap.
Two upper inlet vents in front, two upper outlet vents at the back.
Two shell sizes.
Sizes range from S to XXL.
USAGE EXPERIENCE:
The GIVI M35.0 SCUDO is a new generation of GIVI helmets in terms of safety and fit.
GIVI places rider safety first and foremost. Therefore, the helmet was tested and  approved according to the new ECE RR22.06 helmet standard, although the standard will only be mandatory in 2024. It also means the helmet had gone through rigorous testing before being approved for sale to the public.
As per the ECE regulations, the faceshield (main visor) is tested against object penetration by shooting a ball bearing at 290 km/h at it. The visor must also not shatter into smaller pieces. Additionally, it must be optically correct.
On the subject of fit, Asians generally have rounder head shapes thus the helmet must be made to match. As such, the helmet was designed from the ground up for Asian head shapes. Riders with rounder head shapes will find the Scudo superbly comfortable.
Exclusively introduced with its modernistic Italian design, the GIVI M35.0 SCUDO jet helmet comes with double shell sizes, to cater for S through XXL sizes. Available are 8 variants of graphics and colours:
Solid Ice White,
Solid Grey,
Graphic Draco Black Red,
Graphic Draco Yellow Blue,
Graphic Kraken Neon Yellow,
Graphic Torch Black Blue,
Graphic Ventura Grey Yellow, and
Graphic Ventura White Blue.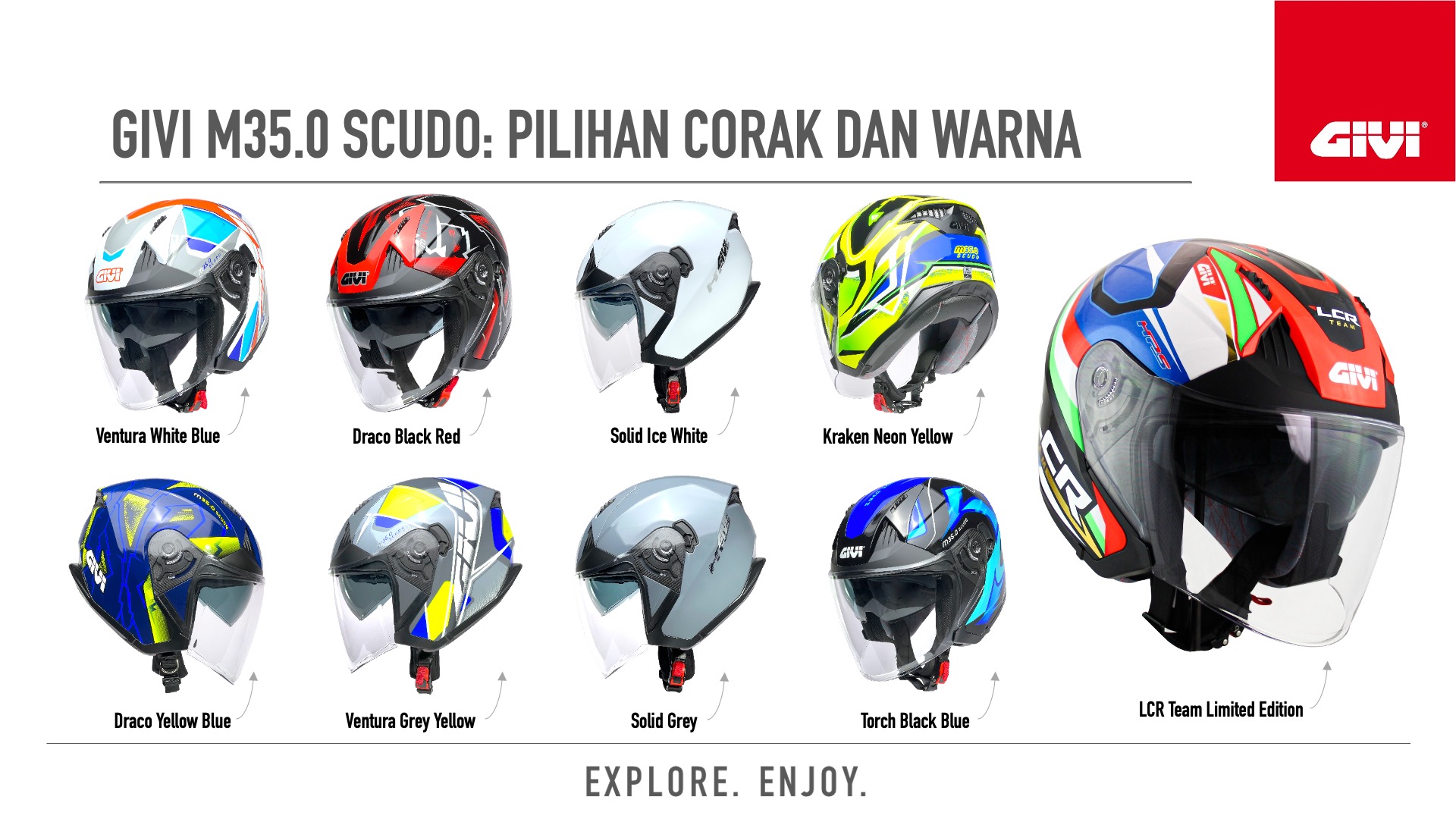 Do note that note everyone has the same head shape. There are Asians with more oval head shapes, and conversely, Caucasians with rounder head shapes.
Please visit your nearest GIVI Point, GIVI Specialised or authorized GIVI dealer to view the products. You may click on this link to find their locations. Conversely, you may also visit our official Facebook page or click on this link in our website for more information for the latest news, happenings and other products.
IT PAYS TO BUY GENUINE