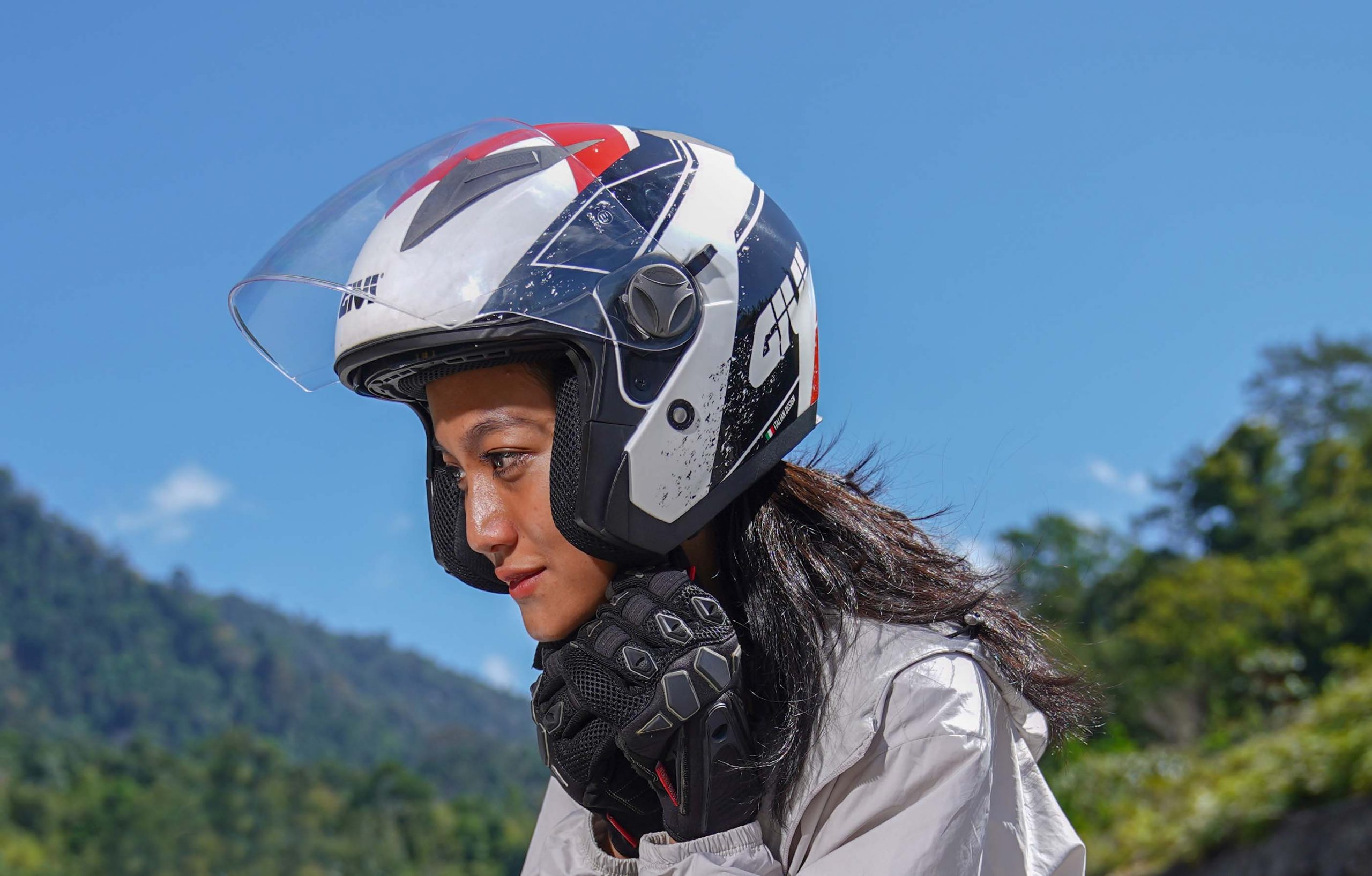 Presto! Beat the heat
The good news is, the Movement Control Order will be rescinded in stages and we will be allowed to ride cross states. Bad news is, the hot and humid weather is still there. Worse, it is interspersed with intermittent heavy rain.
That calls for a helmet which is comfortable that can be worn at all times. An uncomfortable helmet will only result in the rider leaving it aside, regardless how expensive it is.
We have the answer for you in this GIVI M30.2 Presto jet-type helmet.
Features:
• Tough Technopolymer shell for protection against impacts.
• Anallergic fabric (cuts down on bacteria) covering on inner and cheek liners.
• Removable inner lining for washing.
• Removable cheek pads for washing.
• Micrometric buckle for quick and exact buckling.
• Anti-scratch main visor.
• Built-in sun visor.
• 2 upper front intake vents.
• 2 rear exhaust vents.
• ECE R22.05 (J) approved, for jet-type
Usage experience:
First and foremost, the GIVI M30.2 Presto helmet does not cost an arm and leg to own. GIVI's intention is for every rider to be well-protected, hence the helmet is priced for affordability, yet still meets the most stringent ECE R22.05 standard.
But as we mentioned earlier, the real proof is in wearing it.
The M30.2 is sturdy and does not flex unnecessarily unlike some jet-type (open-face) helmets. This is due to the Technopolymer's strength, besides the design of the helmet which optimizes helmet strength in the corresponding areas.
The inner padding gives the rider much comfort and the fabric soaks up sweat quickly to keep the skin feeling cool. The two large vents on top provide a large volume of ventilation in pushing in cool air. As for the exhaust ports, they make sure that hot and stale air in the helmet is quickly extracted.
As for rainy weather, being a jet-type helmet means the visor does not fog up as easily.
The M30.2 Presto is best suited for commuting in the urban environment, plus for riders of touring motorcycles.
Please visit your nearest GIVI Point, GIVI Specialised or authorized GIVI dealer to view the products. You may click on this link to find their locations. Conversely, you may also visit our official Facebook page or click on this link in our website for more information for the latest news, happenings and other products.
IT PAYS TO BUY GENUINE GIVI PRODUCTS