GIVI HPS 40.5 X-Carbon Helmet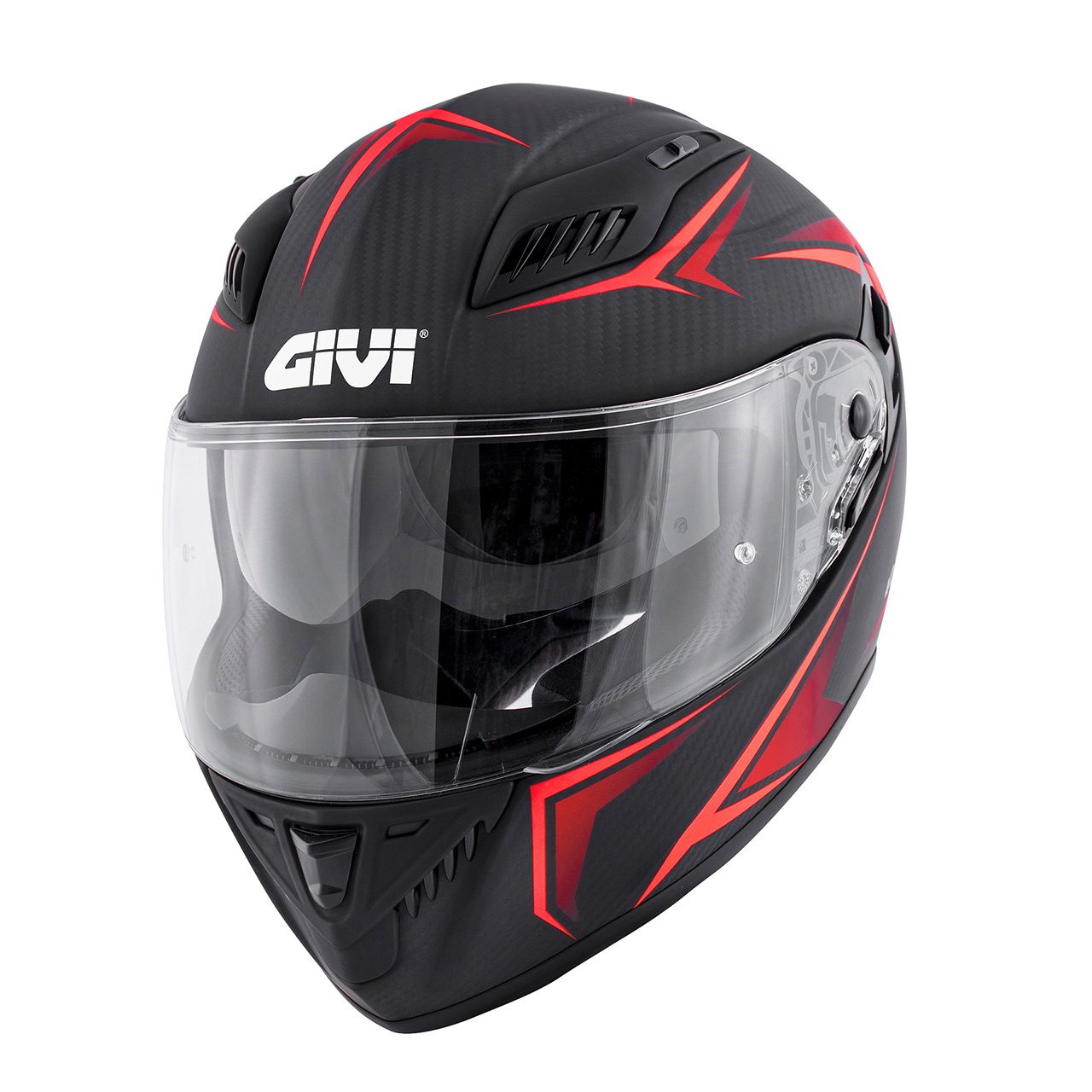 Safety never looked this good
Continuing on GIVI's long tradition of providing the best Head Protection System (HPS), the GIVI HPS 40.5 X-Carbon represents a new paradigm.
The HPS 40.5 X-Carbon takes the aerodynamic shape of a race-ready helmet. Racing helmets usually need to forgo many features of the everyday road helmet, making them impractical. However, instead of eliminating these features, GIVI added practical features for everyday riding in all conditions.
Features:
Aerodynamic shell for maximum stability at all speeds.
Aerodynamic stability promotes rider comfort.
Clear-coated carbon fibre looks aggressive.
Carbon fibre is both lightweight and strong.
Anti-scratch visor.
Visor ready for Pinlock anti-fog insert.
Visor easy to remove without needing tools.
Sunvisor drops down with easy to reach button.
Upper and chin guard vents for airflow.
Extractors pull out hot air from inside.
Luxurious, anallergic comfort liner.
Double D-ring strap for maximum safety.
Ear pockets ready for GIVI I303S Bluetooth® Intercom Basic headset.
Helmet conforms to ECE EN 22.06 regulations.
Fibre version also available.
Usage Experience:
The GIVI HPS 40.5 X-Carbon was the standard-issue helmet during the GIVI Golden Triangle Adventure convoy which covered Thailand, Cambodia and Vietnam. We rode through different conditions each day ranging from hot and humid, to dry and dusty, to hot and dry, back to hot and humid, and finally under 16-hours of rain.
The most important aspect of a helmet is the comfort provides. The HPS 40.5 helmet seemed to "disappear" after a few minutes, leaving the rider to concentrate on the road ahead. When the weather became hot, the vents allow in airflow which could be felt on the face and the top of the head.
It also stayed stable at high speeds, without trying to lift. Similarly, turning the head to the sides did not cause it to buffet in the wind.
Also important for our tropical weather is keeping the water out and the visor clear under torrential rain. This we experienced firsthand in Cambodia. With the visor fully down and locked, no water leaked down the inside part of the visor. The Pinlock insert did its job of keeping the view ahead clear for maximum vision and safety.
The GIVI HPS 40.5 comes in two colours and retails for RM 1992.80 (inclusive of SST).
Please visit your nearest GIVI Point, GIVI Specialised or authorized GIVI dealer to view the products. You may click on this link to find their locations. Conversely, you may also visit our official Facebook page or click on this link in our website for more information for the latest news, happenings and other products.
IT PAYS TO BUY GENUINE