GIVI GRT714 GRAVEL-T WATERPROOF CARGO BAG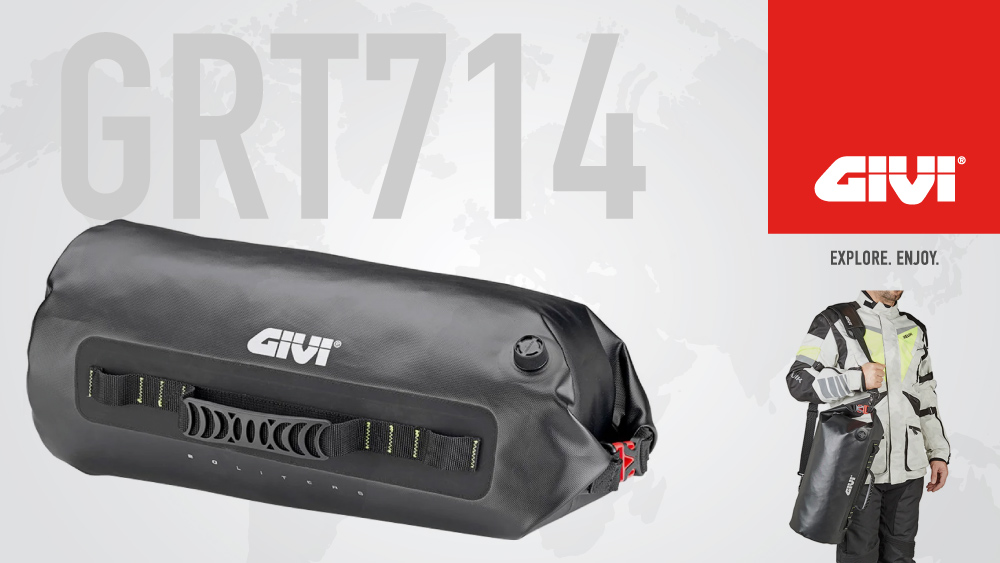 Large capacity waterproof bag with carrying ease
There are a wide variety of duffel-style i.e. cylindrical bags but the GIVI GRT714 is unique in many way, besides providing the necessary convenience.
Features:
20 litre capacity.
840D Nylon TPU with DOUBLE COATING.
The material is also UV tested.
Yellow inner.
Resistant to cuts and tears.
Seamlessly welded, guaranteeing maximum waterproofness.
One-way air release valve.
Reflective prints improved visibility.
Elastic straps with plastic hooks to attach to motorcycle.
Adjustable and padded strap for carrying on shoulder.
Front handle with rubber insert.
Usage experience:
The GIVI GRT714 is the result of GIVI's experience and continued research and development into the cylindrical waterproof bag. As such, it has added waterproofness and strength.
The air release valve allows the rider to press down on the bag and release air from the inside to reduce the size of the bag for easy storage, attachment, or carriage. The valve is one-way which allows air out but not air, dust, and water in.
Its nylon TPU material is UV tested for longevity under the sun, hence it does not turn brittle quickly when exposed sunlight. It is also seamless, which means it has no weak points to wear out for water to enter. The seamless welding is one of GIVI's many expert techniques employed to ensure impermeability.
The addition of a padded shoulder strap and rubberized handle eases the task of carriage by the rider.
Please visit your nearest GIVI Point, GIVI Specialised or authorized GIVI dealer to view the products. You may click on this link to find their locations. Conversely, you may also visit our official Facebook page or click on this link in our website for more information for the latest news, happenings and other products.
IT PAYS TO BUY GENUINE