GIVI GRT704 3-LITER GRAVEL-T WATERPROOF WAIST BAG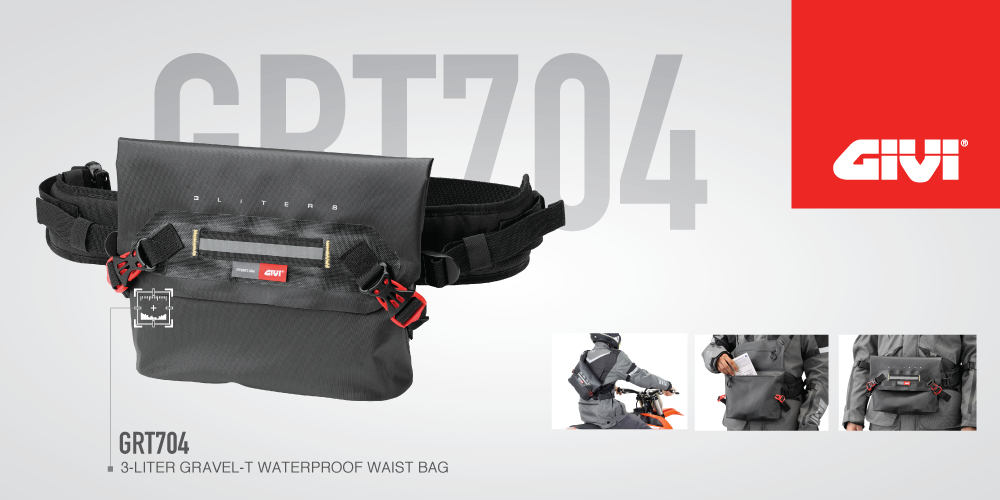 So tough, it meets the demands of off-road riders
Built tough is already a hallmark of GIVI products, but the GIVI GRT74 3-liter Gravel-T Waterproof Waist Bag is one of the toughest in our product range.
The Gravel-T line-up consists of products that could withstand the rigours of off-road riding, hence the name. As such, they are also waterproof. But they also contain many useful features.
Features:
Waterproof waist bag.
Can be used a cross-sling messenger bag.
3-liter capacity.
Adjustable strap for attaching to the waist with a padded band.
Pocket under additional flap for small accessories.
Neoprene inner pocket for smartphone and mini-tablet.
Zipper closure with water-resistant flap and quick-release buckles.
Reflective inserts.
Usage experience:
The GIVI GRT704 is not only made for ease of usage but also for versatility. This is the product for riders who prefer sling bags, rather than waist bags, but also vice-versa for those who swear by waist bags. It all depends on finding the most comfortable carry position and for reaching into the bag.
In our experience, not water entered the pouch even in the heaviest rains during these wet months (May – June 2019). Riding with it slung over the shoulder and chest means having the secure knowledge that the bag is present at all times.
The 3-liter capacity allows the rider to store plenty of stuff.
IT PAYS TO BUY GENUINE