GIVI EA144 TANKLOCK Tank Bag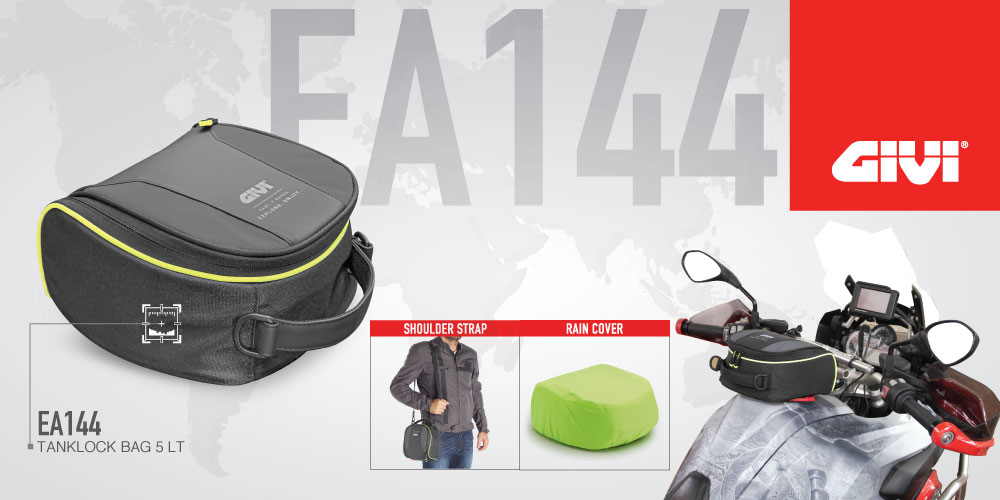 The GIVI EA144 Tanklock bag is a compact tank bag for easy carry.

It is thus ideal for the daily commute.

Strong and sturdy material for many years of reliable use.
The GIVI EA144 Tanklock tank bag is a compact version especially for riders who needs a small tank bag that does not get in the way and easy to carry off the bike for the daily commute.
Besides being the leader in motorcycle cases, GIVI is also the undisputed leader in motorcycle tank bags. This is why GIVI offers so many choices of tank bags to cater to each rider's specific wants and needs.
FEATURES:
5-litre carrying capacity.
Can carry up to 2kg (depending on the rack).
GIVI Tanklock system for secure and quick attachment/detachment.
Shell made of long lasting and strong proprietary material.
High visibility yellow rain cover provided.
Reflector panel for added safety.
Built-in ergonomic carry handle.
Shoulder strap included for carrying off the motorcycle.
USAGE EXPERIENCE:
A tank bag is ideal because one can store his items in front of him. Additionally, the tank bag can be easily detached and carried by the rider when he reaches his destination.
The GIVI EA144 Tanklock tank bag is specifically developed for riders who need to increase the storage capability of his motorcycle but only requires one which is not too large. Despite its size, the EA144 has ample space for a large sized smartphone, powerbank, wallet/purse, and many other small items.
GIVI developed the Tanklock system to provide a strong and secure attachment to the motorcycle's tank. The system also allows the rider to attach the bag and detach it quickly, without fuss.
Please visit your nearest GIVI Point, GIVI Specialised or authorized GIVI dealer to view the products. You may click on this link to find their locations. Conversely, you may also visit our official Facebook page or click on this link in our website for more information for the latest news, happenings and other products.
IT PAYS TO BUY GENUINE GIVI PRODUCTS