GIVI EA139 EASY-T LEG WALLET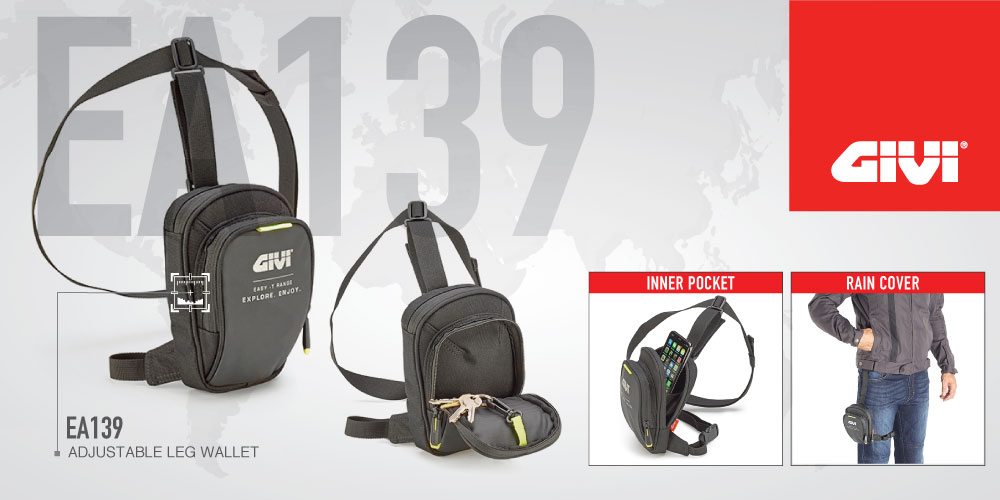 Put a leg in it
The leg bag or leg wallet is an easy way to carry your small belongings as they are within easy reach, compared to even the waist pouch.
The GIVI EA139 EASY-T LEG WALLET continues that tradition and with it, the leg wallet/leg bag has moved to a new higher level altogether.
FEATURES:
Attachment is via a strap around the user's thigh.
Another strap attaches to the user's pants' belt loop or belt.
Polyester 600D PU and laminated PU polyester construction.
PU inserts with fluorescent yellow reflective strips.
Inner pocket.
Front pocket.
Clip for keys.
Reflective prints for better safety.
USAGE EXPERIENCE:
The GIVI EA139 EASY-T LEG WALLET is a simple solution for those who wish for a simple carrying pouch. It may look small, but it could carry a large smartphone in is large pocket, while having enough capacity to fit the user's keys and other small items. Riders who like this type of carrying solution cites not having to rummage around for their phone or whichever item they are looking for.
Having a leg bag makes sense as it is within the user's easy reach while riding or standing up as it is within the arm's arc of motion, much like a holster.
The material is made to last a long time, hence giving you great value.
Please visit your nearest GIVI Point, GIVI Specialised or authorized GIVI dealer to view the products. You may click on this link to find their locations. Conversely, you may also visit our official Facebook page or click on this link in our website for more information for the latest news, happenings and other products.
IT PAYS TO BUY GENUINE GIVI PRODUCTS