GIVI EA125 EASY-T RANGE WAIST BAG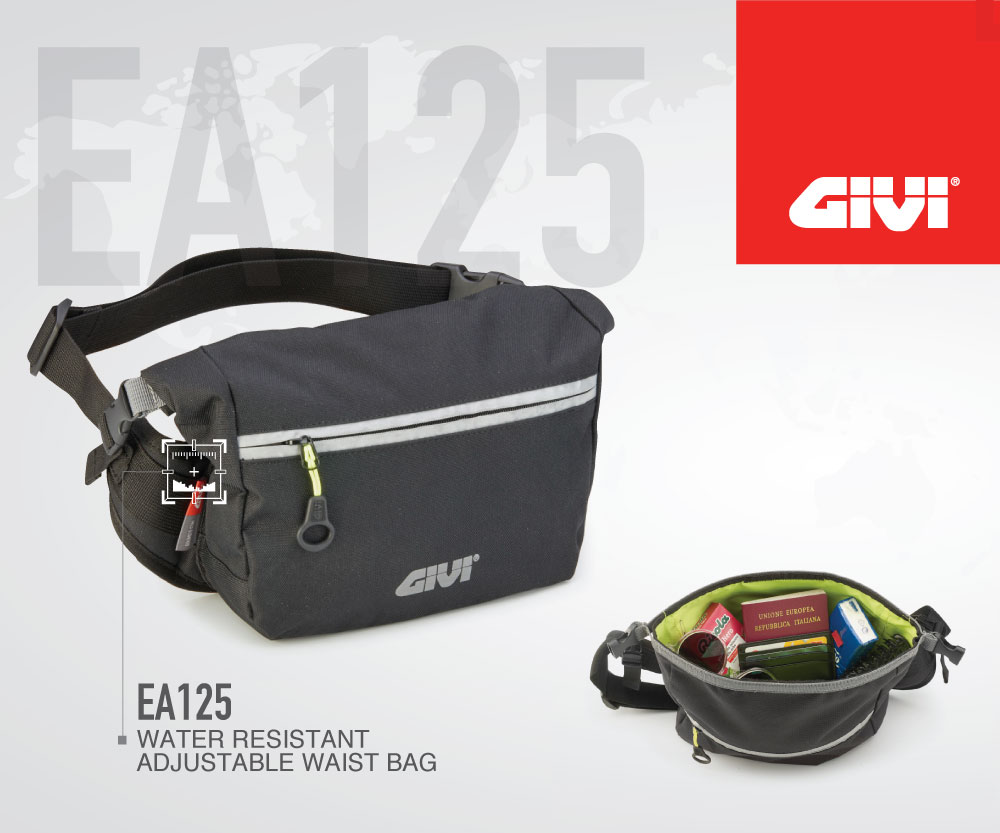 A must-have for every motorcyclist
There is no denying the benefits of using a waist bag when we ride. It takes everything out of our pockets and organize them in a manner which is easy to find and within reach.
GIVI offers many types of waist bags; each with its own style, capacity and usage. This GIVI EA125 Easy-T Waist Bag offers a 3-litre capacity which bridges the 2-litre and 4-litre models.
FEATURES:
100% polyester material.
Roll down waterproof enclosure.
Water resistant front pocket.
Rear pocket with hook and loop fastening, not waterproof.
Rear pocket with moisture vent.
Fluorescent yellow internal lining.
Adjustable straps.
Reflective striping for added visibility.
USAGE EXPERIENCE:
The EA125 Easy-T Waist Bag is perfect for riders who seek a waist pouch that is bigger than a 2-litre model, while being smaller than a 4-litre bag.
As such, the bag can store many items including a large-size smartphone, wallet, GIVI PL01 face mask and other items that need to be dry. One could also carry an extra set of dry gloves during the rainy season.
Using this waist pouch also means that the rider does not have to sit on his items such as the phone and wallet while riding. It means that his items are safely carried, yet within easy reach such as when he needs to fill up his motorcycle's petrol tank.
Please visit your nearest GIVI Point, GIVI Specialised or authorized GIVI dealer to view the products. You may click on this link to find their locations. Conversely, you may also visit our official Facebook page or click on this link in our website for more information for the latest news, happenings and other products.
IT PAYS TO BUY GENUINE GIVI PRODUCTS