GIVI EA113B LEG WALLET XL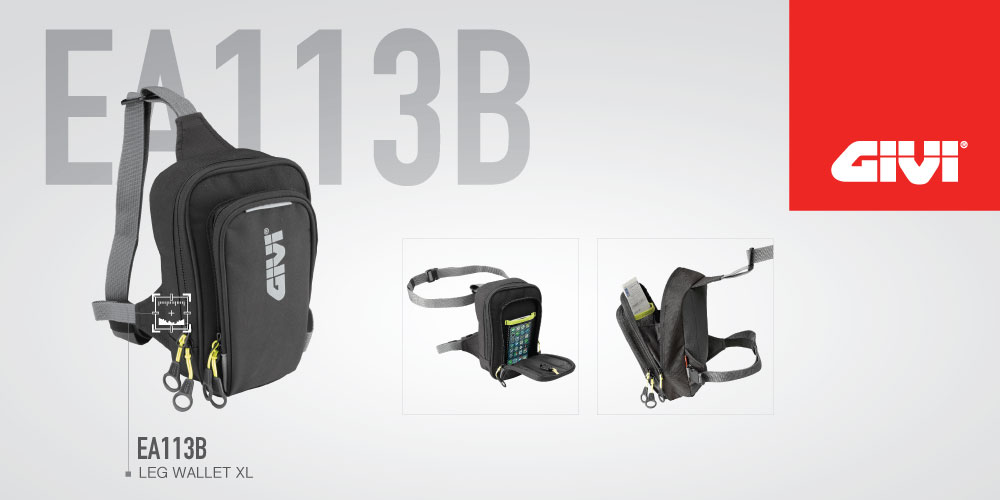 Freeing up the waist
The GIVI EA113B Leg Wallet XL is an evolution of the beloved leg pouch.
The "XL" in its names gives an indication of the large amount of carrying capacity this soft, stylish and comfortable bag provides.
Features:
Polyester material.
Adjustable waist strap.
Adjustable thigh strap.
Main compartment with internal mesh pocket.
Front pocket with mobile phone compartment.
Loop for trouser belt.
Usage experience:
The EA113B is backed up by GIVI's long history and expertise in making soft luggage.
The long drawstrings and large hoops are easy to reach and feel even through thick gloves. Consequently, it is easy to reach for your phone or documents or whatever item you have in the bag.
With two straps – one for the waist and one for the thigh – the bag stays securely in place. Both straps are adjustable for the correct fit.
Using the EA113B frees up from tying a pouch around the waist, as some riders prefer not to ride with waist pouches.
Being held on the thigh means it does not impede on jacket's zipper. Also, you do not have to readjust the straps everytime you remove and put the jacket back on.
Besides that, using the EA113B does not get in the way of a backpack.
Please visit your nearest GIVI Point, GIVI Specialised or authorized GIVI dealer to view the products. You may click on this link to find their locations. Conversely, you may also visit our official Facebook page or click on this link in our website for more information for the latest news, happenings and other products.
IT PAYS TO BUY GENUINE