GIVI EA110B EASY-T TANK BAG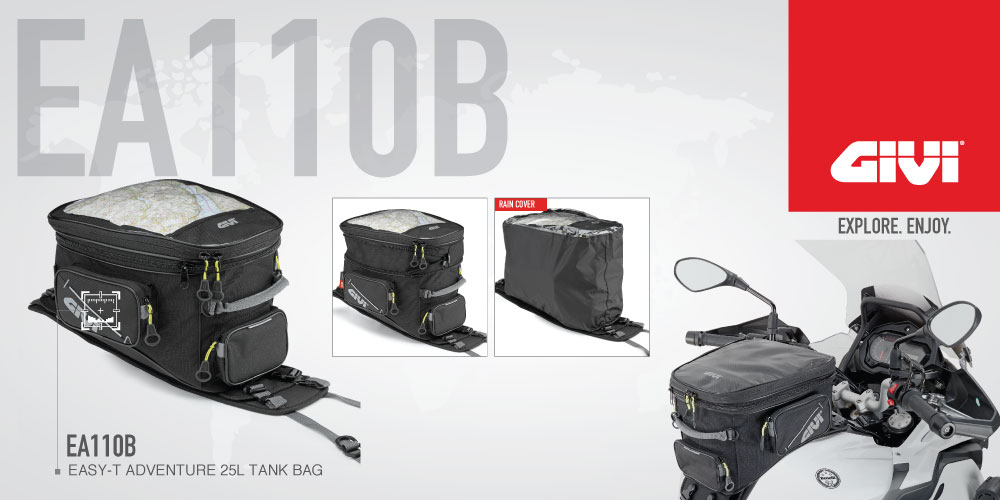 tttta fitseenceeHenceThe importance of a tank bag should not be overlooked. The convenience and the safety aspects that one offers make it an indispensable part of motorcycle luggage. A tank bag stores your items within easy reach and eyesight, such as the GIVI EA110B Easy-T Tank Bag featured here.
It is the reason why GIVI produces tens of types of tank bags which each providing the rider with the kind of storage capacity he needs to carry.
FEATURES:
25 litre storage capacity.
Specific base to fit different motorcycle fuel tanks.
Further expandable for extra carrying space.
Rain cover included.
Shoulder strap included for easy carry.
Carrying handle for ease of carrying off the bike.
Map holder and clear top.
Reflective panels for extra visibility and safety.
Reinforced corners for strength and durability.
Can fit GIVI S111 Power Hub Kit to receive power from GIVI S110 12V Handlebar Electrical Outlet to charge devices.
USAGE EXPERIENCE:
The GIVI EA110B Easy-T Tank Bag is a great solution to riders who are looking for a tank bag that could fit almost anything. Hence it is a great fit for the long tour or a weekend out-of-town jaunt.
The three outer pouches are for small items within easy reach so that you do not have to dig them out of from the main compartment. During the GIVI Malaysian Adventure, this writer stored his phone in the pouch nearest to him, while the other two were for earplugs and a pocket camera.
Its base ensures a steady and secure placement on top of the motorcycle's fuel tank. There are four quick-release clips to mount the bag onto and they are within easy reach when it is time to refuel the motorcycle. The rider only needs to unclip those at the bottom then pivot the bag upwards. The biggest advantage is that the bag went back to the same mounting position.
The central main compartment could fit a large-sized DSLR camera with a lens attached plus still room for another zoom lens. There is also enough space to fit a small towel, helmet cleaner, chain cleaner and chain lube. And there is enough room for two pairs of gloves and so forth.
The GIVI EA110B Easy-T Tank Bag is a worthy investment, indeed.
Please visit your nearest GIVI Point, GIVI Specialised or authorized GIVI dealer to view the products. You may click on this link to find their locations. Conversely, you may also visit our official Facebook page or click on this link in our website for more information for the latest news, happenings and other products.
IT PAYS TO BUY GENUINE GIVI PRODUCTS