GIVI EA106B EASY-T TANK BAG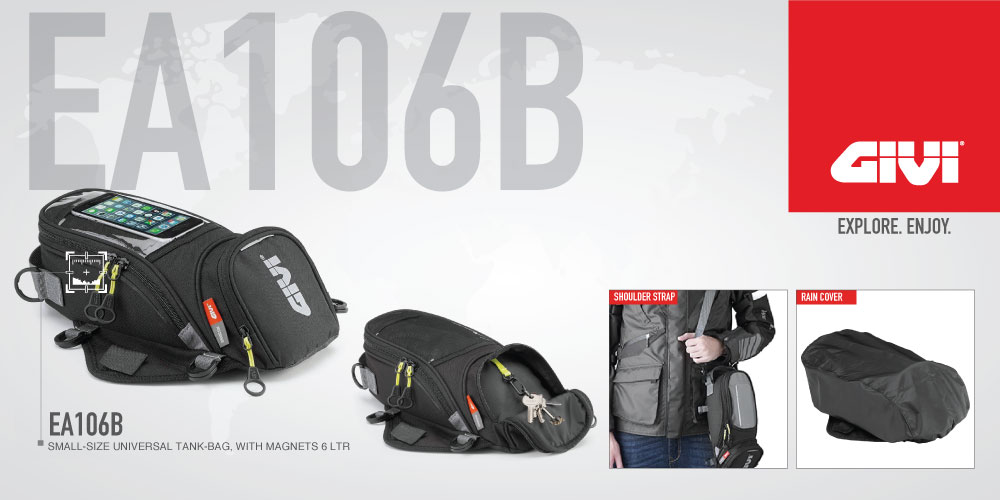 The importance of a tank bag should not be overlooked. The convenience and the safety aspects that one offers make it an indispensable part of motorcycle luggage. Compared to other forms of luggage, a tank bag stores your items within easy reach and within your eyesight.
It is the reason why GIVI produces tens of types of tank bags which each providing the rider with the kind of storage capacity he needs to carry.
FEATURES:
6 litre carrying capacity.
2 strong magnets to place the tank bag on fuel tank.
Rain cover included.
Shoulder strap included for easy carry.
Carrying handle for ease of carrying off the bike.
Smartphone holder and clear top.
Reflective panels for extra visibility and safety.
Inner pocket for small items.
Optional GIVI T460B Tank Fitting System for more secure placement on fuel tank.
Can fit GIVI S111 Power Hub Kit to receive power from GIVI S110 12V Handlebar Electrical Outlet to charge devices.
USAGE EXPERIENCE:
The GIVI EA106B Easy-T Tank Bag is a great solution to riders who are looking for a tank bag in a compact size.
The outer pouch has a key ring in it so that you do not have to search around for your keys. Yet the pouch is large enough to carry a large-sized power bank or other items of similar size.
The central main compartment could fit a wallet or small purse and a rolled up GIVI rain jacket. The clear smartphone compartment allows the rider to place his device there and run a navigation app. Since one can fit the GIVI S111 Power Hub Kit, he can also charge his device at the same time.
GIVI tank bag magnets are renowned for their strength but the GIVI T460B Tank Fitting System can be fitted to the EA106B if the fuel tank is non-magnetic. In any case, the bag can be lifted quickly when the rider needs to refuel.
Please visit your nearest GIVI Point, GIVI Specialised or authorized GIVI dealer to view the products. You may click on this link to find their locations. Conversely, you may also visit our official Facebook page or click on this link in our website for more information for the latest news, happenings and other products.
IT PAYS TO BUY GENUINE GIVI PRODUCTS