GIVI EA105B TUNNEL BAG FOR SCOOTER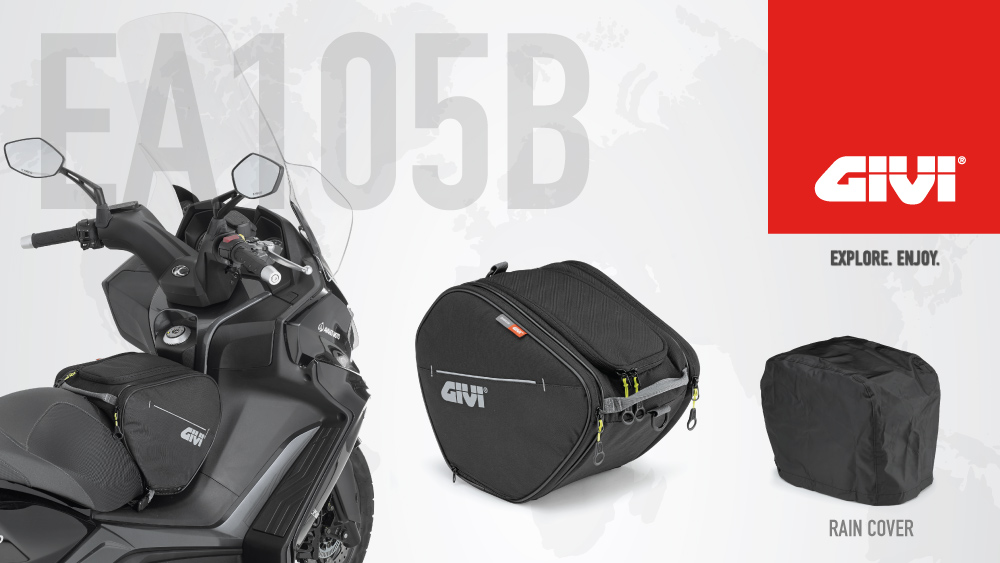 Turns the tunnel into a storage space
Scooter riders are familiar with leaving the tunnel space empty when they ride. But that space has a huge potential for carrying more cargo. GIVI has developed the EA105B TUNNEL BAG for this very purpose.
Features:
15-litre capacity.
Polyester material in accordance with REACH regulations.
Top flap opening.
2 side pockets containing quick fasteners.
1 belt with 2 clips for attaching under the seat.
Front handle for carrying.
Shoulder strap for carrying.
Reinforced parts made of rigid plastic.
Rain cover included.
Usage experience:
The GIVI EA105B makes it convenient for scooter riders to carry their belongings in one bag. It avoids the items from being tossed around in the hard storage spaces of the scooter, in addition to not have the rider forgetting them.
The rider can store his phone, wallet and other items in the bag, and carry them all in one place when he arrives at his destination. The bag is also large enough to hold a GIVI rainsuit. It is compact, but allows for 15 litres of storage, which aplenty.
A rain cover is included.
NOTE: GIVI recommends that you detach the bag when you park your scooter. DO NOT leave the bag and valuables in it when you leave your motorcycle.
Please visit your nearest GIVI Point, GIVI Specialised or authorized GIVI dealer to view the products. You may click on this link to find their locations. Conversely, you may also visit our official Facebook page or click on this link in our website for more information for the latest news, happenings and other products.
IT PAYS TO BUY GENUINE