GIVI EA104B EASY-T RUCKSACK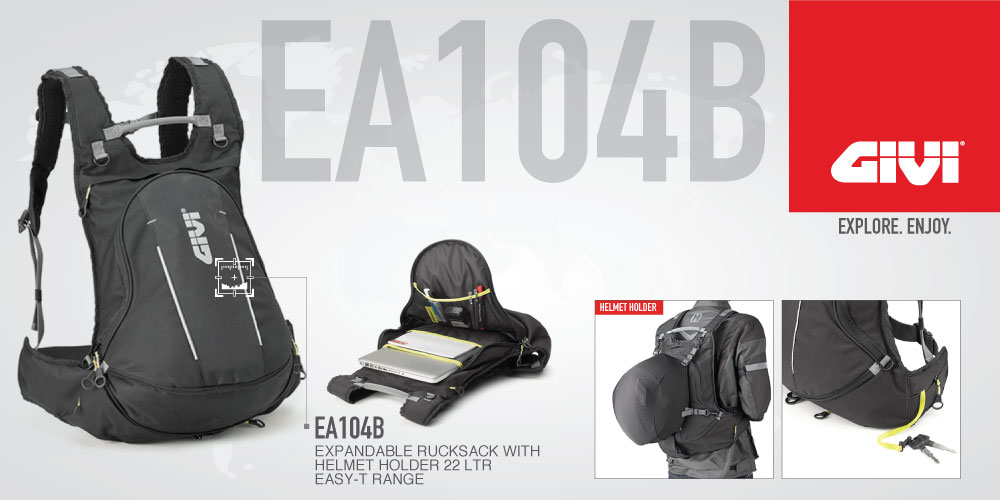 The backpack or rucksack is an important part to motorcycle riders. Some riders do not like mounting luggage to their motorcycles or they already have luggage mounted but needs the extra space to carry more items.
GIVI offers a wide variety of backpacks and rucksacks that are specificially designed for riders. What is the use of a good-looking pack but is uncomfortable or unsafe to riders?
FEATURES:
22 litre carrying capacity.
Belt with clips.
Expandable to carry more items.
Helmet bag included.
Rain cover included.
Reflective panels for visibility and safety.
Inner pocket for small and loose items.
Reinforced edges for durability and strength.
USAGE EXPERIENCE:
The GIVI EA104B Easy-T Rucksack is a great companion to all riders.
Its shape is designed to specifically fit riders in riding position, hence is comfortable for the daily commute or long-distance riding. The waist belt clips in place and ensures that the pack does not move around when the rider is riding even when leaning into corners.
A helmet bag adds the convenience for the rider to store his or his passenger's helmet and leaving his hands free when he is on or off the motorcycle.
The main component is large enough to carry a laptop computer and other files, while the netted compartment allows him to carry smaller and loose items. It sure is convenient to bring his office to a café or anywhere of his of his choosing.
Please visit your nearest GIVI Point, GIVI Specialised or authorized GIVI dealer to view the products. You may click on this link to find their locations. Conversely, you may also visit our official Facebook page or click on this link in our website for more information for the latest news, happenings and other products.
IT PAYS TO BUY GENUINE GIVI PRODUCTS