GIVI EA101B EASY-T SOFT SADDLE BAG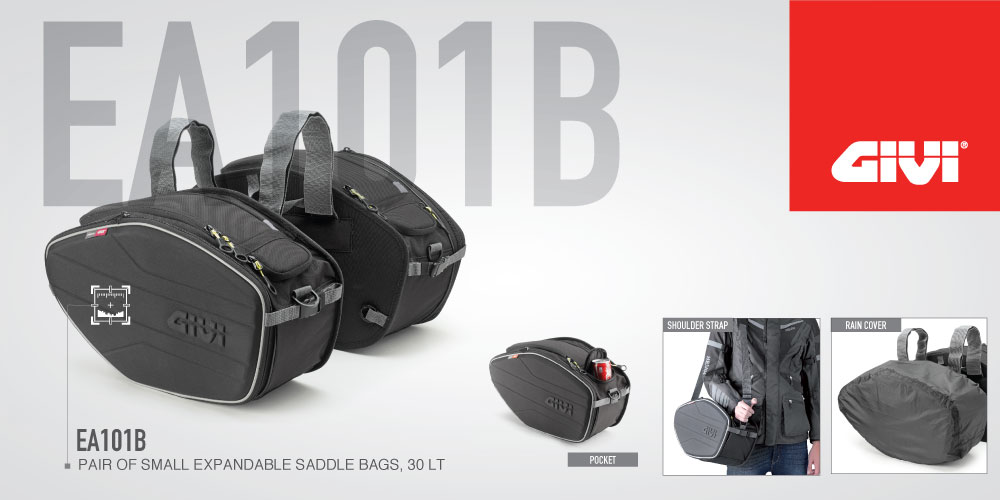 Purposeful, sporty
GIVI understands that there are riders who do not like fitting side pannier mountings to their motorcycles as they stay on when the panniers are removed.
Also, we understand that aesthetics is of the utmost priority especially to sportbike or naked bike riders, who would rather remove components from the bike for that performance look, rather than adding more.
We therefore designed these EA101B Easy-T soft saddle bags.
Features:
30 litre volume.
Hook and loop for easy attachment and adjustability.
Expandable to carry extra items.
Shoulder straps for easy carry off the bike.
Elastic straps for extra security.
Rain cover provided.
Reflective panels for visibility.
Reinforced corners for extra strength and durability.
Easy access flap.
Usage experience:
The GIVI EA101B was designed with a streamlined profile to fit the current crop of sport-tourers and sportbikes. As such, they provide the extra carrying space you crave for without robbing the bike of its looks.
The hook and loop attachment makes the product easy to adjust to any bike and load. It also provides you an easy way to detach it when not in use, say for your weekend blasts up Genting Highlands or on the Karak Highway.
While they offer 30 litres of capacity, they are quite slim and cause little hindrance to moving around traffic during your daily commutes. Being soft also means that they can absorb hits. We would like to add that riding without a backpack provides more comfort and safety to your body.
As for product reliability, we have users who have toured to neighbouring countries with the EA101B and came back with praises. Besides being able to store many of their belongings, the bags can be detached and carried off the bike into their hotels, then reattached before they begin their rides the next day.
Please visit your nearest GIVI Point, GIVI Specialised or authorized GIVI dealer to view the products. You may click on this link to find their locations. Conversely, you may also visit our official Facebook page or click on this link in our website for more information for the latest news, happenings and other products.
IT PAYS TO BUY GENUINE