GIVI E43NTL and E43NTL-ADV Mulebox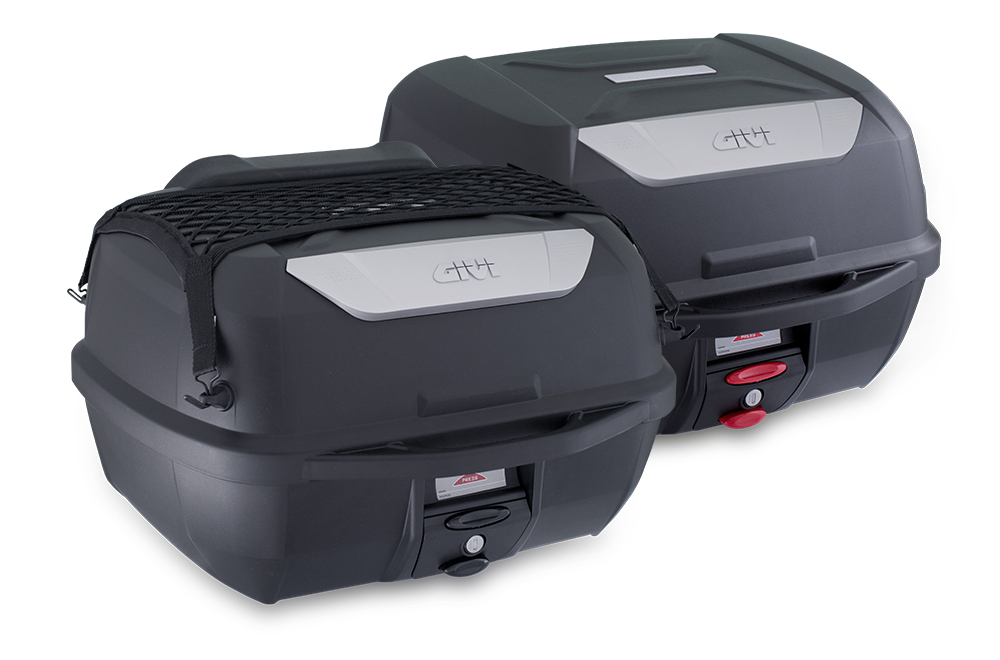 Why leave things at home?
The GIVI E43NTL top box has become the perennial favourite among motorcyclists in Malaysia since its launch two years ago. You can see it being fitted to motorcycles of every size, from kapchais all the up to open-class sport-tourers and adventure-tourers.
Its popularity is easy to explain, due to its design and storage capacity.
Features:
Tough and long-lasting PP material.
Large, 43-litre storage capacity.
Can fit two full-face helmets.
Waterproof against rain.
Boxy shape allowing for ease of carrying items.
Carries up to 3kg with the MV mount, 5kg with the HRV mount.
Velcro pads for waist adjustment.
Monolock® with Monokey® security system.
E43NTL-ADV MULEBOX
In addition to the above features, the ADV (Advanced) version has the following features:
Carrying net to fit more items on top of the lid.
Eyelets on the lid for the carrying net.
Passenger backrest.
Inner padding.
Usage Experience:
As we mentioned earlier, the boxy shape of the E43NTL allows the rider to carry more items easier. Both the lid and bottom portion of the box are deep enough to fit many items. The dimensions are wide enough to fit a backpack filled with a 15-inch laptop, and there is still enough space for a GIVI rainsuit and other items.
The E43NTL-ADV version is recommended if you are a rider who tours frequently. The eyelets on the lid allow you to fit the carrying net, thus expanding the total carrying capacity. The inner padding is useful in both insulating your items from shock, besides allowing water to drain down to the bottom of the box, should you carry your wet GIVI rainsuit.
We have seen many of our valued customer fitting the E43NTL and carrying all sorts of items, including camping tents to faraway places.
The boxy design also contributed to the E43NTL's popularity as it does not make the box look out of place on the bike. This fact is seen by the number of kapchais using the box.
The E43NTL is the best choice if you want a single hard luggage.
Please visit your nearest GIVI Point, GIVI Specialised or authorized GIVI dealer to view the products. You may click on this link to find their locations. Conversely, you may also visit our official Facebook page or click on this link in our website for more information for the latest news, happenings and other products.
IT PAYS TO BUY GENUINE