GIVI E340N VISION TOP CASE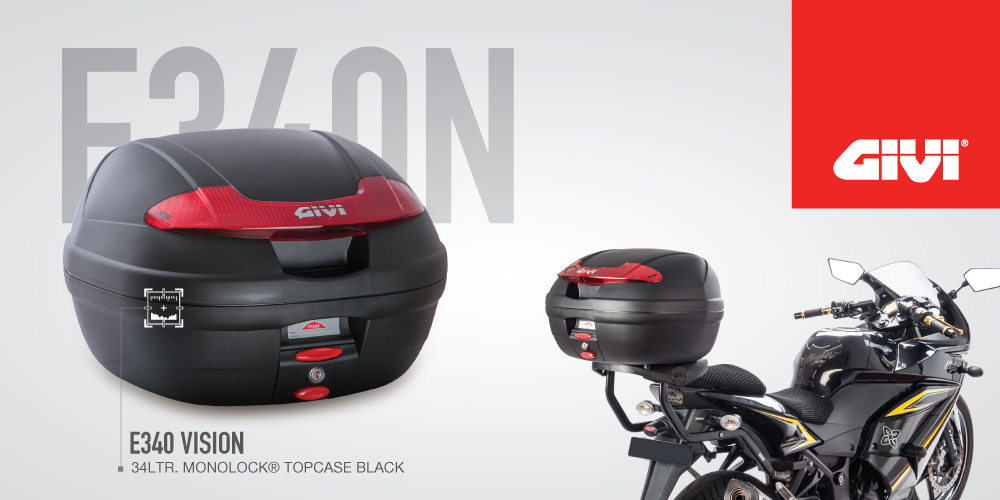 Mid-sized and stylist top case for any motorcycle
 The GIVI E340N Vision top case offers a mid-sized and stylish luggage solution for all motorcyclists, including big bikers.
As with all GIVI polymer cases, the E340N uses the best material on the market to make it strong, shatterproof and long-lasting. The material we use includes and anti-UV agent to guard against ageing under strong sunlight.
Features:
34-liter capacity.
GIVI Monolock technology.
Made using GIVI's proprietary anti-UV polymer technology.
Fits one full-faced helmet.
Maximum carrying load of up to 3kg with M/MX or 5kg with HP/HPX mount.
Large size reflector for visibility and safety.
Usage experience:
The GIVI E340N Vision top case draws on GIVI's unparalleled expertise in building tough and long-lasting motorcycle luggage.
We received feedback from the market that the case can accommodate one full-face helmet in addition to a GIVI rain suit plus other items. It can also fit a full rucksack.
Motorcyclists also took a liking to its rounded shape as it fits the profile of current sporty-looking motorcycles such as the Yamaha Y15ZR, Honda RS150R, Kawasaki Ninja 250R and so on.
As with all GIVI hard cases, spare parts are available.
Please visit your nearest GIVI Point, GIVI Specialised or authorized GIVI dealer to view the products. You may click on this link to find their locations. Conversely, you may also visit our official Facebook page or click on this link in our website for more information for the latest news, happenings and other products.
IT PAYS TO BUY GENUINE GIVI PRODUCTS