GIVI E30T "TOUR II" MONOLOCK TOPCASE
20 Sep 2021
News,
[Sassy_Social_Share]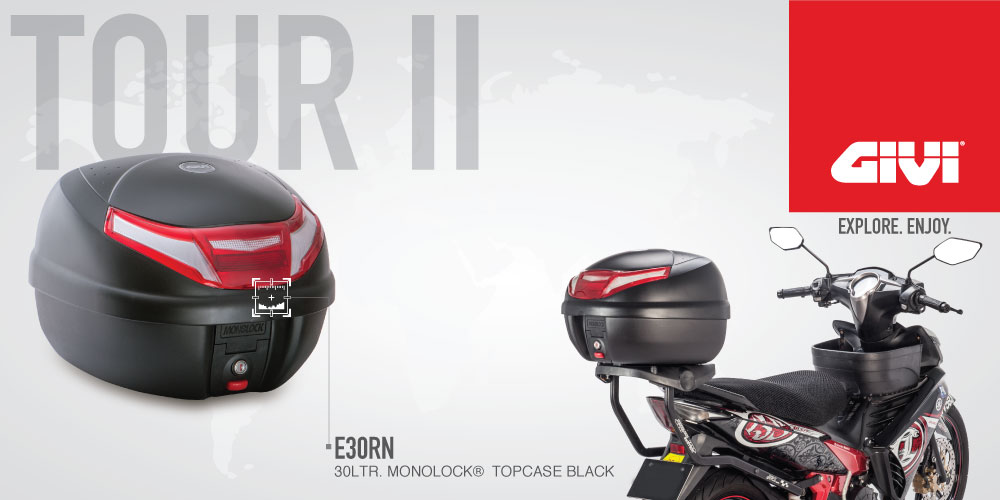 Possibly no other motorcycle luggage maker produces so many models, especially polymer ones, unlike us at GIVI. It is because we understand that everyone has a different need, budget, requirements. And of course, beauty is in the eye of the beholder.
But you will still receive the same high-quality, highly-research and developed product, no matter which you choose. You can thus can expect a product that lasts and serves you for many years, if not forever.
FEATURES:
30 ltr storage capacity.
Up to 5 kg in carrying weight.
Durable Techno polymer construction.
Airtight seal for weather resistance.
Can store one helmet.
Optional Universal Backrest E88M can be fitted.
S30R conversion kit with reflector can be fitted.
USAGE EXPERIENCE:
The E30 Tour II adds more capacity although being just a little larger overall than the B27 Clack.
That factor makes the GIVI E30 Tour II a favourite among many motorcyclists due to its compact size combined with the ability to carry many items. The rider can store his helmet in addition to a rain suit. The empty case can fit a backpack and other items.
It offers a stylish yet functional and reliable storage system for every motorcyclist. Its shape is purposely designed as such to facilitate smooth airflow even at all speeds. It is compact enough to not get in the way of the passenger.
Speaking of the passenger, adding the optional Universal Backrest E88M provides much comfort to the passenger, while the S30 conversion kit upgrades the safety feature of the case.
Please visit your nearest GIVI Point, GIVI Specialised or authorized GIVI dealer to view the products. You may click on this link to find their locations. Conversely, you may also visit our official Facebook page or click on this link in our website for more information for the latest news, happenings and other products.
IT PAYS TO BUY GENUINE GIVI PRODUCTS